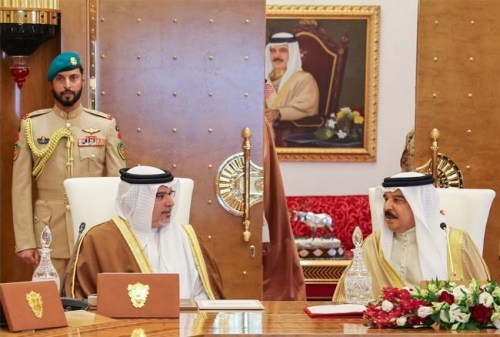 Bahrain King hails HRH Prince Salman's successful US visit
TDT | Manama
The Daily Tribune – www.newsofbahrain.com
His Majesty King Hamad bin Isa Al Khalifa commended the fruitful and constructive efforts exerted by His Royal Highness Prince Salman bin Hamad Al Khalifa, the Crown Prince and Prime Minister, to ensure the success of his recent US visit.
This came as HM the King, the Supreme Commander of the Armed Forces and President of the Supreme Defence Council, chaired the SDC meeting, attended by HRH Prince Salman, the Deputy Supreme Commander of the Armed Forces, at Al Sakhir Palace yesterday.
The SDC reviewed the fruitful outcomes of HRH the Crown Prince and Prime Minister's successful official visit to the US, which featured the signing of the Comprehensive Security Integration and Prosperity Agreement between the two countries.
The Bahrain-US pact aims to enhance the long-standing cooperation between the two friendly countries towards more unprecedented levels of bilateral integration in the security, military, modern technology, trade, and investments fields.
It also contributes to strengthening the security and economic systems between the two countries and regions, which will open up wider horizons for development.
Humanitarian contributions
HM King Hamad also praised the continuous humanitarian contributions of the Royal Humanitarian Foundation, led by His Highness Shaikh Nasser bin Hamad Al Khalifa, HM the King's Representative for Humanitarian Work and Youth Affairs, citing the RHF's provision of urgent relief aid to those affected by the earthquake and floods in Morocco and Libya, respectively, expressing pride in all those who contributed to the relief operations and ensured their success.
HM the King also paid tribute to the Bahrain Defence Force (BDF), the National Guard and the Interior Ministry for their tireless efforts and constant keenness to carry out their patriotic duties with unrelenting courage and determination to safeguard the homeland and defend its gains and the security of its citizens.