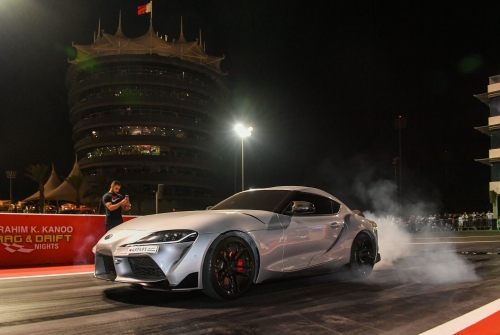 BIC hosts Ebrahim K Kanoo Drag and Drift Nights today
TDT | Manama
The Daily Tribune – www.newsofbahrain.com
Bahrain International Circuit (BIC) is offering nonstop excitement today as it hosts the latest edition of the Ebrahim K Kanoo Drag and Drift Nights. This week's event will only feature the drag activity along the world-class quarter-mile strip at "The Home of Motorsport in the Middle East".
Due to logistical constraints, there will be no drifting for this event. Speed enthusiasts and adrenaline junkies will have the opportunity to take their very own cars or motorbikes and push them to their limits down the state-of-the-art drag strip.
Tuesday's Ebrahim K Kanoo Drag and Drift Nights takes place from 6pm until 11pm. Registration for participants can be done on site from 5pm. The drag racing can be enjoyed at a cost of BD8. Those who would like to experience the drag activity as a passenger can get into a participant's car for an additional BD4.500.
Spectators can purchase tickets online at BIC's official website bahraingp.com for BD2 apiece to watch all the action. Tickets for children aged 12 and below are BD1 each. Meanwhile, also available today is BIC's most thrilling passenger ride, the Dragster Experience, dubbed as "the Fastest Ride on Earth!" Fans will have a chance to get a taste of pure speed as they are taken from zero to 100kph in just one second while seated in a Top Dragster.
The Dragster Experience is available at BD44 for the first passenger while the second passenger can get 50 per cent off. For more information, visit bahraingp.com or call the BIC Hotline on +973-17-450000.