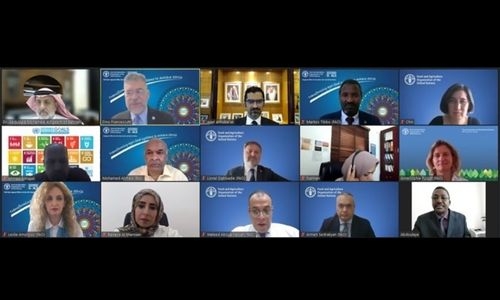 Bahrain keen to strengthen UN partnership in agriculture
TDT | Manama
The Daily Tribune – www.newsofbahrain.com
The Municipalities Affairs and Agriculture Ministry is keen to strengthen partnership with United Nations (UN) organisations in supporting national programs in the areas of agricultural and fisheries development that support food security in Bahrain.
Minister Wael bin Nasser Al Mubarak said raising the Kingdom's classification in relevant global indicators represented in the abundance of food, food supply stability, and food safety and quality, and pointed out that the ministry attaches the file of food security to the utmost importance and is working on implementing strategic initiatives that will achieve its desired goals.
He was speaking at a virtual meeting with the UN and GCC the sub-regional coordinator of the Food and Agriculture Organization, Dr Dino Francescotti Mutis. The Minister explained that the implementation of the first project concerned with the development of Bahrain's food security strategy has been completed that focused on three objectives in promoting innovative systems that increase the quality and quantity of production, ensure the sustainability of locally produced food, and take the necessary measures for the continuation of food imports.
The meeting reviewed a report on the four joint projects between the ministry and the FAO implemented within the framework of the strategic partnership between Bahrain and the UN agencies for the years 2018-2022.
"The strategy also includes raising the efficiency of use by reducing food loss and waste and ensuring food security," he added, noting that the strategy included about 76 recommendations that were analysed in the strategy with the aim of ensuring effective planning.