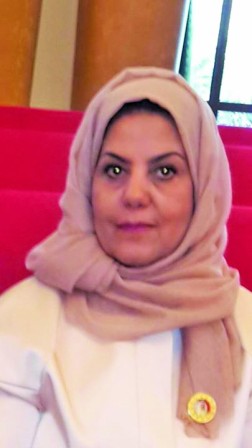 BAHRAIN'S RELIGIOUS TOLERANCE AMAZING: HWPL PEACE ACTIVISTS
Manama
International peace activists who visited Bahrain yesterday said they were impressed with the religious tolerance and togetherness they witnessed in the Kingdom.
Bahrain was deemed "most religiously tolerant in the middle east" by two officials from Heavenly Culture World Peace Restoration of Light (HWPL), an international organisation that promotes religious tolerance all over the world.
Of the 14 countries in the Middle East they worked with, Bahrain has been the most religiously tolerant, they said. HWPL established its office in Bahrain last month and have been studying the country ever since, they added.
Speaking to DT News HWPL Middle East General Manager Vicky Kim said there is still room for improvement for Bahrain. He said the organisation is collaborating with Bahraini organisations such as Bahrain Association for Religious Coexistence and Tolerance to improve the religious tolerance in the society.
"What we have seen and experienced in Bahrain has been excellent so far. We have been working hard for the past one year, visiting the Middle Eastern nations. It was difficult to organise events the other countries as minority religious communities could not be reached easily," she said.
"But in Bahrain, it was very easy because all the religious communities were operating independently with utmost ease. The religious freedom and togetherness in Bahrain is amazing," she added.
She added the organisation is also planning to involve Bahraini youth in a 'peace walk' planned to be held May 25.
"We focus not just to bring the religious leaders together but also the youngsters. We are in discussion with the Bahraini authorities and the Bahrain royal family on how we can contribute in the development of the youth," she said.
The HWPL delegation visited various religious organisations and societies. Bahrain Association for Religious Coexistence and Tolerance Chairman Yousif Buzaboon said the meeting with HWPL activists have been fruitful.
"We work for a common goal, so I expect this partnership to held in the growth of the country," he said.
Sharing a similar view Bahrain Association for Religious Coexistence and Tolerance Member Kaltham Zainal said it is not surprising the visitors are impressed with Bahrain's religious tolerance.
"Bahrain has guaranteed total freedom of religion for all, thanks to His Majesty King Hamad Bin Isa Al Khalifa." she said.