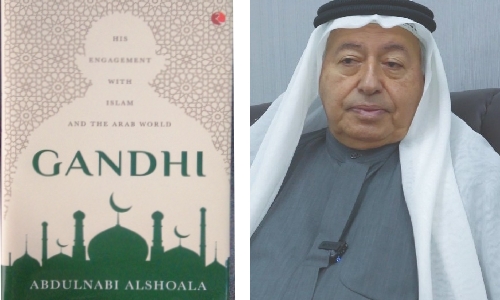 New book spotlights Gandhian principles
P Unnikrishnan
TDT | Manama
The Daily Tribune – www.newsofbahrain.com
The principles and philosophy of Mahatma Gandhi are more relevant today, said Abdulnabi Alshoala, the author of 'Gandhi: His engagement with Islam and the Arab World', which will be released virtually at 4 pm today Isa Cultural Centre, Manama.
The book describes Indian leader and freedom fighter Mohandas Karamchand Gandhi's engagements with Islam and the Arab World.
In an exclusive interaction with The Daily Tribune, Mr Alshoala said Gandhi was the only non-Muslim leader in world history, who led an Islamic movement.
"Gandhi led the Khilafat movement in India in the 1920s - one of the largest pan-Islamist political protest campaigns launched by Muslims of British India to restore the religious authority of Ottoman rulers.
"Gandhi has many times said that he was as much a Muslim as a Hindu.
He was a proud Hindu who was highly respectful of all other religions including Islam."
Mr Alshoala said that the Middle East region s h o u l d embrace Gandhian ideologies to emerge more peaceful in the future.
"Our region has been engulfed in conflicts and wars. People are trying to sort out differences through violence, which is not the right way.
Gandhian principles highlight the point that one can achieve the objectives without resorting to violence. There are peaceful methods to it.
If you see, he defeated the British empire without firing a single bullet."
Mr Alshoala said he fell in love with Gandhian philosophy in the same year he reached India for higher education.
"I joined St Xaviers College Mumbai to pursue majors in political science and public administration in 1969 when India was celebrating the birth centenary of Mahatma Gandhi.
Instantly, Gandhi and his principles caught my attention.
"Gandhi's contribution reinforced India's base for coexistence and tolerance.
One of his most important teachings is on the need to have ethics in politics though there are still not many politicians strictly adhering to truth and honesty."
One of the founding members of the Bahrain-India Society, Mr Alshoala highlighted the relevance of Gandhian philosophy in the present world.
"It was Gandhi who pioneered the concept of social responsibility.
Even capitalist countries now talk of social responsibility in terms of both individuals and corporations.
"Though he promoted social responsibility, he was not especially inclined towards Communism or Socialism.
These are areas where a person has to sacrifice for the ideologies and Gandhi was opposed to it. To him, the individual was the centre of focus."
Mr Alshoala added that Gandhian principles are applicable everywhere, from good governance to business management.
"A businessman can hundred per cent emerge successful if he strictly adheres to Gandhian school of thought.
He must embrace transparency and truth, which is the cornerstone for any business to succeed."
Mr Alshoala is the chairman of Dar Albilad for Journalism, Publishing and Distribution Co and the founding chairman, and advisor to the board of Alfanar Investment Holding Co.
Over his long and illustrious career Mr Alshoala has served as Minister of Labour and Social Affairs and, later, as Cabinet Minister of State; served as a member of the Kingdom of Bahrain's Advisory Council and, also, been elected to the Board of Directors of the Bahrain Chamber of Commerce and Industry.