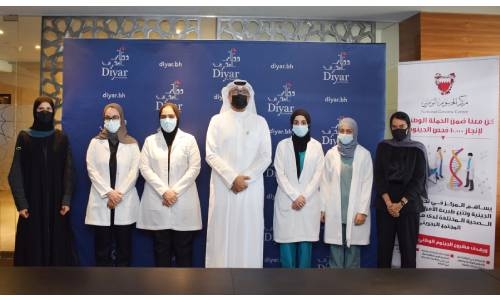 Diyar Al Muharraq participates in National Genome Project
TDT | Manama
The Daily Tribune – www.newsofbahrain.com
Diyar Al Muharraq said its employees took part in the National Genome Project at its headquarters in Manama.
Diyar's employees participated as volunteers in the campaign in line with the company's ethos to contribute to the development of key industry sectors, particularly the medical and healthcare industries.
At the 2019 Government Forum, HRH Prince Salman bin Hamad Al Khalifa, Crown Prince, Deputy Supreme Commander and Prime Minister of the Kingdom of Bahrain, announced the launch of the National Genome Centre, which would provide a DNA database for citizens.
Interpreting and analysing the data will significantly improve the diagnosis, early detection, and the extent of an individual's susceptibility to infection.
Commenting, Ahmed Ali Alammadi, Chief Executive Officer of Diyar Al Muharraq, said, "Diyar Al Muharraq will continue to maintain its proactive stance in supporting all national initiatives across various sectors and fields, and we actively encouraged all our employees to participate in the National Genome Program given the vital importance of the National Genome Centre."
Diyar Al Muharraq is one of the largest real estate development companies in Bahrain.