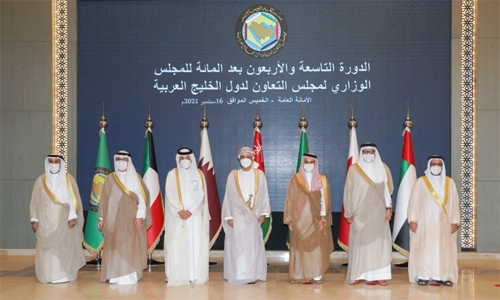 Regional situation 'bothersome', 'worrying': Bahrain Minister
TDT | Manama
The Daily Tribune – www.newsofbahrain.com
Dr Abdullatif bin Rashid Al-Zayani, Bahrain's Minister of Foreign Affairs, chaired the 149th GCC Ministerial Council Session yesterday, calling the current regional situation "bothersome" and "worrying."
The meeting, Dr Al Zayani said, comes amid a "bothersome" regional situation, as well as "worrying political, security, economic and health challenges". Confronting them, the minister said, requires the member states to continue strengthening cooperation and joint coordination at all levels.
The meeting was at Prince Saud Al-Faisal Convention Centre at the GCC headquarters in Riyadh. "The leaders of the GCC states were aware of the dangers posed by the COVID-19 crisis to human health and GCC states, and their responses were up to the level," said the minister.
The GCC Health ministries, he said, are also continuing their constructive cooperation in dealing with the repercussion of the pandemic. The minister told the conference that continuing joint Gulf action is the key to confronting regional challenges, which now is also calling for further consolidation, cooperation and coordination.
Calling the Al Ula summit in Saudi Arabia a milestone in the GCC march, he urged member states to continue joint efforts to complete the requirements of the customs union, the Gulf Common Market and achieve economic unity by 2025.
The minister also drew the attention of the GCC states on the need for reaching free trade agreements with countries and international groups.
Afghan in dire need of aid
On the situation in Afghanistan, he said the world nations are closely monitoring the developments. The people there, he said, are in dire need of urgent humanitarian aid. "What happening in Afghanistan underscores the importance of concerted efforts to stabilise the situation at home and protect civilians," he said.
He called world nations to ensure that no terrorist groups harbour Afghanistan for their illegal activities and accelerate urgent humanitarian aid to the Afghan people.
Meetings with Yemen, Iraq
Dr Al Zayani also held joint ministerial sessions between GCC foreign ministers and Foreign ministers of Yemen, Iraq and Saudi Arabia on the sidelines of the 149th session.
Dr Nayef Falah Mubarak Al-Hajraf, the GCC Secretary-General, was also present during the meetings. During a meeting with Ahmed Awad bin Mubarak, the Minister of Foreign Affairs and Expatriates of Yemen, Dr Al Zayani expressed the firm support of GCC nations to the leadership of Yemen and took great pride in the efforts of the coalition supporting legitimacy of Yemen.
He stressed the importance of reaching a political solution to the Yemeni crisis, which the Houthi terrorist group are worsening. Dr Al Zayani commended the ceasefire announced by Saudi Arabia, the last march in Yemen and said defeating Houthis is the national duty of the Yemeni people for which requires a unified effort.
During the meeting with Dr Fouad Mohammed Hossein, the Foreign Minister of Iraq, Dr Al Zayani emphasised the need for strengthening the strategic partnership between the GCC and Iraq. He also expressed pride in the Gulf Electricity Grid Interlinkage project and efforts made to complete the project.