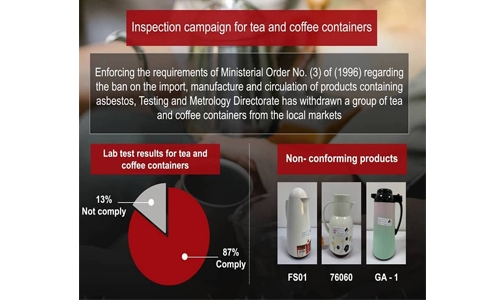 Cancer-causing Asbestos found in 13% tea, coffee containers tested in Bahrain
TDT | Manama
The Daily Tribune – www.newsofbahrain.com
A field survey conducted by the Ministry of Industry Trade and Tourism on various Tea and coffee containers sold in Bahrain found cancerous substances like Asbestos in 13 % of the products tested.
The majority of the products, 87% of the products collected for testing from the markets of Bahrain, were safe and devoid of Asbestos. Based on the findings, the testing and Metrology Directorate withdrew the unsafe products from the market.
The move is per ministerial Order No (3) of (1996) that bans the import, manufacture and circulation of products with Asbestos. Shaikh Hamad bin Salman Al Khalifa, the Assistant Undersecretary for Local and Foreign Trade, said they conducted the survey in two phases and are planning to do more in the coming period.
The samples, he said, were collected from different points of sales, countries of origin, brands and capacities. "We also collected tea and coffee containers of various sizes and types." Tests followed Australian Standard AS 4964 for the qualitative identification of Asbestos in bulk samples.
Quality tests followed three sequential stages. First, using a microscope and the second and final through X-ray diffraction techniques. "The tests returned results showing that 87% of the samples were identical and devoid of Asbestos, while 13% of the samples had results that did not match and harmful asbestos," said Shaikh Hamad.
Authorities, he said, seized all violating Tea and coffee containers from the shops across all governorates of the Kingdom. The ministry is also pursuing administrative and legal measures against violating shops. "Shop owners are also directed to import products free of carcinogenic substances such as Asbestos."