Basel AML ranking reflects Bahrain's commitment: Interior Minister
TDT | Manama
The Daily Tribune – www.newsofbahrain.com
Bahrain's top ranking on the Basel AML Index reflects the Kingdom's commitment to battling money laundering and terrorist financing, said General Shaikh Rashid bin Abdullah Al Khalifa, the Interior Minister.
The Basel AML Index is an independent annual ranking that assesses the risk of money laundering and terrorist financing (ML/TF) worldwide.
The risk scores cover five domains: Quality of AML/CFT Framework. Bribery and Corruption. Financial Transparency and Standards. Bahrain is ranked first in the Arab region and second in the Middle East for the second year in a row on the index.
The milestone, Shaikh Rashid said, reflects procedures of the government led by His Royal Highness Prince Salman bin Hamad Al Khalifa, the Crown Prince and Prime Minister, to reinforce the sovereignty of the law.
"It further reflects the transparency and commitment to the human rights values and principles of the reform approach of His Majesty King Hamad bin Isa Al Khalifa," the minister said.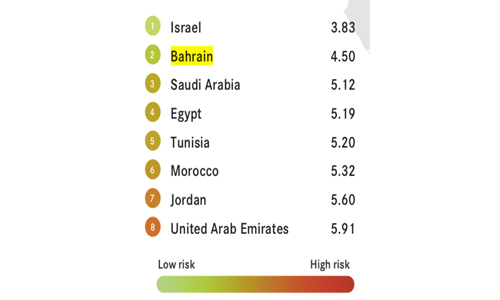 The interior minister was receiving Rasheed Al Maraj, the Central Bank of Bahrain Governor, and Shaikh Salman bin Isa Al Khalifa, the CBB Deputy Governor, yesterday.
Also present was the Director of Financial Intelligence and Deputy Chairperson of the committee, Shaikha Mai bint Mohammed Al Khalifa.
Shaikh Rashid is also the Chairman of the Counter extremism, Money laundering and Terrorism Committee. CBB Deputy Governor also chairs the committee that sets policies to prohibit and combat money laundering and terrorism funding.
During the meeting, the minister hailed the cooperation and coordination between ministries and concerned authorities in implementing anti-money laundering procedures.
The meeting reviewed topics related to funding terrorism, money laundering and steps to promote cooperation and coordination to reinforce the national efforts.