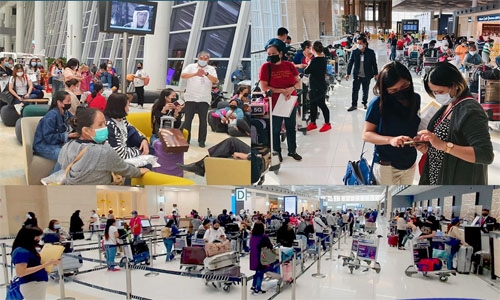 88 stranded Filipinos in Bahrain repatriated
TDT | Manama
The Daily Tribune – www.newsofbahrain.com
The Philippine Embassy has successfully brought home 88 stranded Filipinos in Bahrain via a special chartered flight arranged by the Philippines' Department of Foreign Affairs (DFA) as part of its ongoing Repatriation Programme.
The repatriates from Bahrain boarded the Cebu Pacific aircraft on Sunday evening and joined 280 others from Lebanon and Syria. Of the 88 repatriates from Bahrain, 56 were female and 32 were male.
The group is composed of two infants, two minors, 11 pardoned detainees, and 73 other distressed Filipinos, of which 77 are fully vaccinated. As part of safety procedure during repatriation, the passengers were all tested for the coronavirus (COVID-19) through the funding of the Philippine Embassy.
The Embassy also provided all passengers with COVID-19 travel kit which included PPE suits, face masks, face shields, gloves and hand sanitisers. Ambassador Alfonso A. Ver led the Embassy Team at the airport to assist the passengers in boarding the special chartered flight.
DFA-(Office of the Undersecretary for Migrant Workers' Affairs (OUMWA) and Overseas Workers Welfare Administration (OWWA) coordinated with the concerned agencies in the Philippines to facilitate the quarantine requirements of the repatriates upon their arrival to the Philippines.
The Embassy continues to provide assistance in repatriating stranded Filipinos in Bahrain as part of the Philippine government's COVID-19 response programme.