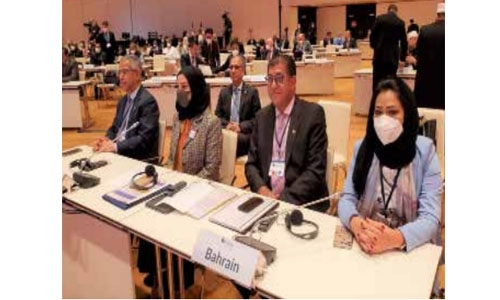 Bahrain preparing bill to combat hate speech, terrorism: Speaker
TDT | Manama
The Daily Tribune – www.newsofbahrain.com
Bahrain is working on a new and comprehensive bill to combat hate speech, extremism and contempt for religions, said speaker Fawzia bin Abdullah Zainal. The law, Zainal said, which will cover all traditional and new-age platforms, follows the directives of His Majesty King Hamad bin Isa Al Khalifa.
Speaking during the first Global Counter-Terrorism Summit held yesterday in the Austrian Capital Vienna, the speaker said the law supports the values of moderation, tolerance, the culture of peace, and dialogue.
"It also confronts extremist ideas that feed sedition, violence and terrorism."
The speaker also called on parliaments and legislative councils all over the globe to conduct periodic reviews of legislations related to combating terrorism to ensure that they remain abreast of the new methods of crimes.
Parliaments, she said, should review governments' legislation and policies to combat terrorism to adopt clear and firm stances against terrorist groups. "There is also a need to activate laws and agreements that facilitate the freezing of assets and properties of terrorist groups to dry up their funding sources," the speaker said, calling on all to exchange lists of such organisations to prevent external funding.
The speaker also called on the international community to take a decisive stance on countries harbouring terrorists.
"I see the need to review policies taken by governments to activate regional and international cooperation in the fight against terrorism and take measures that prevent cyber attacks."
"This is also needed to address the use of social media platforms to spread hate speech and extremism and recruit terrorists," she added.
"Legislative councils, parliamentary unions, and rights organisations should carefully review their stances to not to aid terrorist group or their acts, which bear the cover of human rights."
Legislators from all around the world are participating in the summit co-organised by the Inter-Parliamentary Union (IPU), the United Nations Office of Counter-Terrorism (UNOCT), and the United Nations Office on Drugs and Crime (UNODC).
Opening the summit, the speaker of the National Council of the Republic of Austria, Wolfgang Sobotka, highlighted the crucial role parliamentarians play in the fight against terrorism and violent extremism.
Bahrain's delegation to the summit includes Jamal Muhammad Fakhro, the First Deputy Speaker of the Shura Council, Abdul Nabi Salman, the First Deputy Speaker of the House of Representatives, and Jamila Ali Salman, the Second Deputy Speaker of the Shura Council.
Reviewing Bahrain's experience in combating terrorism, the speaker said the Kingdom is taking special efforts in developing curricula, curbing all forms of terrorism financing and remained proactive in enacting legislation to protect society.