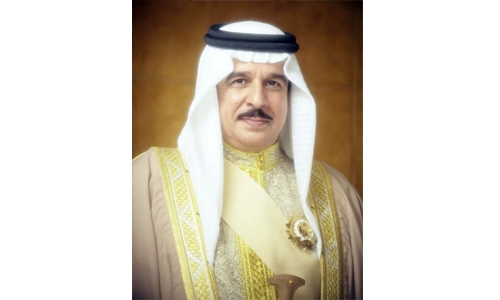 HM the King receives governors and citizens on Ramadan's last 10 days
TDT | Manama
The Daily Tribune – www.newsofbahrain.com
His Majesty King Hamad bin Isa Al Khalifa yesterday met remotely, at Al Safriya Palace, Southern Governor His Highness Shaikh Khalifa bin Ali bin Khalifa Al Khalifa, Muharraq Governor Salman bin Isa bin Hindi Al Mannai, Capital Governor Shaikh Hesham bin Abdulrahman Al Khalifa and Northern Governor Ali Abdul Hussein Al Asfoor.
HM the King also met remotely citizens from the four governorates, marking the last 10 days of the Holy Month of Ramadan, as part of HM the King's meetings with leading Bahraini personalities.
HM the King delivered a speech on this occasion, congratulating the audience and all the people of Bahrain on the holy month of Ramadan and the last 10 days of fasting, wishing Bahrain and its loyal people, the Arab and Islamic nations many happy returns.
He expressed delight at meeting the audience during these blessed days of Ramadan, taking pride in Bahraini longstanding traditions which mark the holy month and embody the noble Islamic values.
He praised the loyal people of Bahrain, expressing delight at their congratulations and good wishes marking the Holy Month of Ramadan.
He commended their keenness on reviving longstanding traditions during this blessed month of fasting despite these challenging times.
HM the King prayed to Allah the Almighty to lift the pandemic, bless the infected people with a speedy recovery and the deceased with mercy in vast paradise and protect Bahrain and all countries in the world from any harm.
HM the King extended greetings to all loyal citizens countrywide, appreciating their dedication to their families, homeland and nation Southern Governor HH Shaikh Khalifa bin Ali bin Khalifa Al Khalifa congratulated HM the King on the last 10 days of the Holy month of Ramadan, reiterating full allegiance to HM the King and the homeland.
He praised HM the King's sound directives, lauding the vision and support of the Government, chaired by His Royal Highness Prince Salman bin Hamad Al Khalifa, the Crown Prince and Prime Minister.