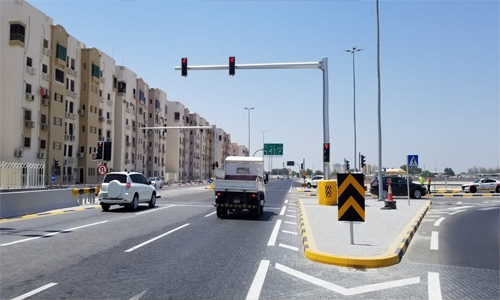 Ministry installs new traffic light on the North Sheikh Zayed Road
TDT | Manama
The Daily Tribune – www.newsofbahrain.com
A new traffic light is now operational on the northern Sheikh Zayed Road at its intersection with the Ramli housing exit. The Ministry of Works, Municipalities Affairs and Urban Planning said it has also completed the works of Aali Roundabout to the southern entrance to Ramli housing, which is 600 meters long.
On the northern Sheikh Zayed Road development, the ministry said the works are progressing fast on a 700-meter section from the intersection of the southern Ramli Housing Entrance to the North Ramli Housing Entrance Intersection and Street No. 10 and will be ready within next month. The BD23,400,000 Sheikh Zayed Road development project funded by Abu Dhabi Fund for Development is one of the most important strategic projects in the Kingdom.
The project connects the villages of Aali and Salmabad and Madinat Zayed towards Sheikh Khalifa Bin Salman Street to Manama and vice versa. It will reduce bottlenecks in Salmabad and A'ali areas and provide easy access to Educational Area in Isa Town. Upon completion, the highway will have a capacity to accommodate 53,000 vehicles per day in two directions.
By 2030, the road capacity will increase to 100,000 vehicles per day, with an average of 5,400, 6,700, and 6,100 vehicles during the morning, afternoon, and evening peak hours, respectively.