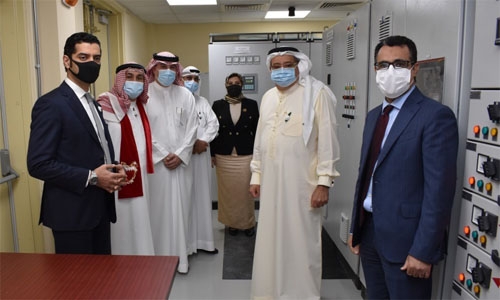 Nabih Saleh gets new BD3.5 million water station
TDT | Manama
The Daily Tribune – www.newsofbahrain.com
Electricity and Water Authority has announced the completion of a BD 3.5 million Water Distribution Station in Nabih Saleh. Work is currently underway to launch the solar panel system on the upper reservoir, which would power up the entire facility.
"702 solar panels are being installed, which could produce about 253 kilowatts (maximum) of clean electrical energy," said EWA chief, Shaikh Nawaf bin Ibrahim Al Khalifa. "Energy thus produced satisfies the needs of the station," Shaikh Nawaf said adding, "surplus electricity will flow to Kingdom's electricity distribution network."
A one-million-gallon upper tank, with accompanying pipelines and valves, and a building for electrical devices, control devices and a water chlorination system were constructed, as part of the project. The upper reservoir is covered with aluminium sheets, taking into account the urban character of the region.
The development came as Electricity and Water Affairs Minister, Wael bin Nasser Al-Mubarak, the CEO of the Electricity and Water Authority (EWA), Shaikh Nawaf bin Ibrahim Al Khalifa, and Capital Municipal Council Chairman, Saleh Tarrada, yesterday visited the Nabih Saleh Water Distribution Station.
The station is within EWA's plans to develop and expand water distribution networks, in line with the directives of His Royal Highness Prince Salman bin Hamad Al Khalifa, the Crown Prince and Prime Minister. The project increases EWA's storage capacity and strengthens the water distribution network in the Nabih Saleh region.
It also meets the needs of housing and service projects there. "EWA will continue to implement more development projects to enhance the quality of its services," the minister said. Nass Contracting Company constructed all of the station's facilities and supplied it with the latest mechanical, electrical, control and communication equipment from leading companies.
Ahmed Mansoor Al-Aali covered the upper reservoir and installed solar energy cells. A UK consultancy firm, Mott MacDonald, oversaw the construction of the station.