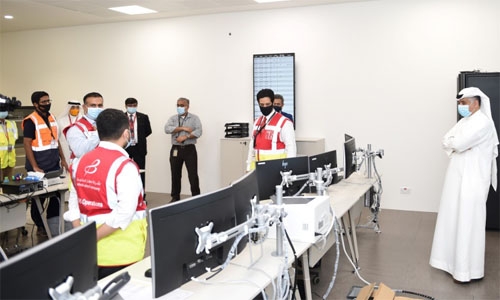 Bahrainis occupy all major positions at new airport terminal
TDT | Manama
The Daily Tribune – www.newsofbahrain.com
The new passenger terminal at Bahrain International Airport will shed light on the tremendous progress Bahrain has achieved in the air transport sector, said Kamal Ahmed, the Minister of Transportation and Communications, thanking well qualified local cadres.
"It is a matter of our great pride in the Ministry of Transportation and Communications and the Bahrain Airport Company that this huge development project has come to light under the leadership of a team consisting mostly of Bahrainis," he said.
Kamal Ahmed, also the Chairman of the Board of Directors of Bahrain Airport Company, was inspecting the on-going preparations to transfer operations to the new passenger terminal at Bahrain International Airport.
Well qualified
The ministry stressed: "Improving the skills of employees is one of the most important pillars of Bahrain Airport Company's growth strategy, especially in managing this project." "Operations of modern equipment and advanced information technology systems in the new passenger terminal require an extraordinary level of expertise and skill."
The team members, the minister said, had received extensive and high-level training in Bahrain and abroad, and they are now well qualified to work with utmost efficiency.
"The presence of a large number of Bahrainis in topmost position at the airport confirms the progress Bahrain has attained in the aviation sector," the minister added.
The minister further praised the crucial steps taken by the Bahrain Airport Company in developing the capabilities of Bahrainis, refine their skill sets and prepare them to take up leadership positions in the air transport sector.
"This is also one of the most important objectives of the airport modernisation programme, which is consistent with the government action programme and Bahrain's economic vision 2030."
At present, Bahrainis constitute 86 per cent of the company's total employees in the payroll. Bahrainis are also handling the new departments created for the new passenger terminal, including for Baggage Handling Services and the Airport Operations Centre. Minister toured the Engineering Control Centre, the Airport Operations Centre, the Network Operations Centre, the Baggage Operations Centre, and the Fire Command Centre and ensured its readiness for January 28 opening.
The expansion project, part of Bahrain's Vision 2030 economic programme, had been set to open in early 2020.
The new terminal can handle 14 million passengers a year. The minister praised the readiness of the main control centres to start operating in the new passenger terminal.
The terminals meet the best international standards and specifications in the management of airports and equipped with the latest technologies that enable workers to remain up to date. Besides, the minister expressed full confidence in Bahraini employees, for their ability to operate the centre non-stop.