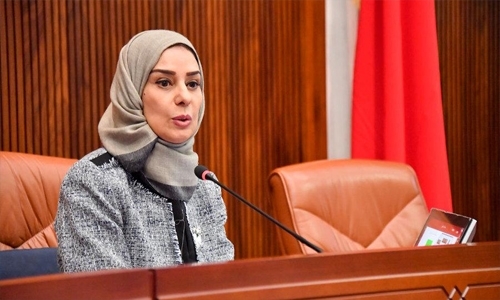 Council receives ISO quality certification
TDT | Manama
The Daily Tribune – wwwnewsofbahrain.com
Council of Representatives Speaker Fawzia bint Abdulla Zainal has stressed the importance of further improving the quality of parliamentary work in serving the citizens and supporting the comprehensive development march spearheaded by His Majesty King Hamad bin Isa Al Khalifa.
This is also important in ensuring the continuous performance of legislative and monitoring roles, in accordance with the provisions of the constitution, and an advanced institutional vision and method, she added.
The Speaker asserted that the Representatives Council had proved its competence and distinction through continuing its work during the spread of the novel coronavirus pandemic via video conferencing and remote work, while adhering to the precautionary measures set by Team Bahrain, led by His Royal Highness Prince Salman bin Hamad Al Khalifa, the Crown Prince and Prime Minister.
Zainal lauded the success of the Representatives Council in obtaining the ISO quality certification thanks to its distinguished Bahraini youth competencies and experts, stressing the need to carry on dedicated work within the creative one team spirit.
The Speaker made the statements while receiving here today the Secretary-General of the Council of Representatives, Chancellor Rashid Mohammed Bu Najma, following the Council's success in obtaining the "ISO 9001: 2015" granted to it by the TÜV Nord Middle East (TÜV ME).
Chancellor Bu Najma expressed sincere thanks and appreciation to the Speaker for the Representatives Council's milestone achievement, noting that the exploit is the fruitful outcome of the Speaker's support, follow-up and constant keenness to develop legislative work.