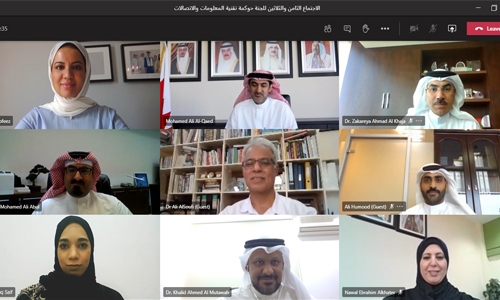 ICTGC reviews BD 4 million procurement requests
TDT | Manama
Bahraini government strategic projects and procurement requests worth around BD4 million came for discussion at the 38th Information and Communication Technology Governance Committee (ICTGC) meeting, chaired by Information & eGovernment Authority (iGA) Chief Executive, Mohammed Ali Al Qaed.
The meeting via video conference reviewed requests, including that from the Supreme Council of Health's (SCH) Diagnosis Related Group (DRG), which is required for the Bahrain National Health Insurance Scheme (Sehati), and bring further transparency to the costs of healthcare services offered by hospitals.
ICTGC committee further discussed a tender for providing Microsoft programme licenses to the Ministry of Education to continue offering remote learning.
The meeting also discussed a request for call centre services to the iGA and the National Bureau for Revenue (NBR), and Navigational Telex (NAVTEX) services used by the Ministry of Transportation and Telecommunications to send navigational and air warning signals to ships and transmit forecasts and urgent safety information. The meeting also reviewed the latest NBR system developments and their progress. Al Qaed welcomed new committee member Ali Jassim Humood who represents the Ministry of Cabinet Affairs, adding that his presence will help elevate the committee's work and achieve its objectives.