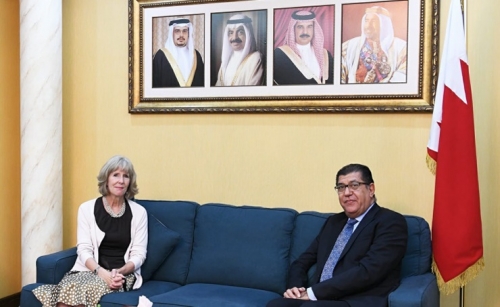 Importance of Bahrain - US relations stressed
TDT | Manama
Shura Council's first deputy chairman Jamal Mohamed Fakhroo stressed the importance of the strategic relations between Bahrain and the US and highlighted the advanced level of cooperation between the two friendly countries in various fields. This came as he received in his office yesterday US Embassy charge d'affaires Margaret Nardi.
The deputy chief indicated that the Shura Council highly appreciates US efforts to establish peace in the region, and particularly for brokering the signing of the declaration in support of peace between Bahrain and Israel. Fakhroo stressed the Kingdom's steadfast position in support of the Palestinian cause, in accordance with the Arab Peace Initiative.
He also spoke about the initiatives and precautionary measures taken by Bahrain, under the leadership of His Royal Highness the Crown Prince, in its fight against the coronavirus (COVID-19) pandemic. For her part, the American chargé d'affaires praised the exceptional efforts made by the Kingdom in addressing the coronavirus and providing healthcare for all citizens and residents.