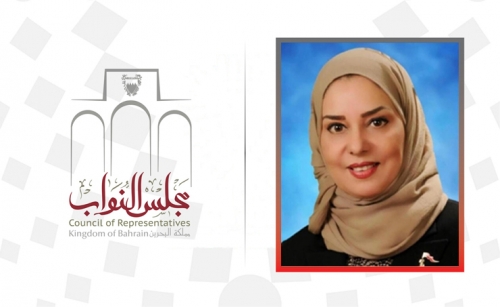 TDT | Manama
Bahrain has been—and still is—a role model to be emulated in the fields of peace and coexistence among religions and sects, thanks to His Majesty King Hamad bin Isa Al Khalifa's sound visions, Council of Representatives Speaker Fawzia bint Abdulla Zainal stressed yesterday.
The royal visions have entitled Bahrain to be a "Kingdom of Peace", and a leading country in embodying the values and principles of peaceful co-existence among its citizens, she said. The Speaker affirmed that peace is a well-established approach of HM King Hamad, and a firm culture of the Bahraini people, as well as a genuine Bahraini fundamental.
She noted that fostering the values of peace is among the basic pillars of the Reform Project and the comprehensive development march spearheaded by HM the King through unity, love, and harmony among everyone, in addition to supporting peace and tolerance as the best means to advance societies and achieve development and progress.
The Speaker said this in her statement marking International Day of Peace, observed worldwide every September 21, held this year under the theme "Shaping Peace Together". The speaker stressed that no stability or prosperity can be achieved without peace that meets the aspirations of peoples and nations for security and stability, which can be a catalyst for them to attain more development.
She emphasized that peace is the strategic option for Bahrain and its civilizational and humanitarian message to the whole world, adding that peace will remain the best embodiment of the cultural and civilizational component of the Kingdom's people and a true expression of Bahrainis' moral and humanitarian authenticity.
She pointed out that it is fortunate that this year's International Day of Peace coincides with the signing of the Declaration Supporting Peace between Bahrain and Israel, and noted that the bold historic step is consistent with HM King Hamad's policies to spread the culture of peace in the world, including the provision of better chances for the Palestinian people to establish their independent state, in accordance with the International Legitimacy's resolutions and the Arab Initiative.
The Speaker highlighted the numerous initiatives launched by HM the King to promote openness and acceptance of the other policy, such as the establishment of the King Hamad Global Centre for Peaceful Co-existence, the inauguration of the "King Hamad Chair for Interfaith Dialogue and Peaceful Coexistence" at La Sapienza University in Rome in November of 2018, and the launch of the King Hamad center's "Cyber-Peace Programme" in New York on the sidelines of 74th session of the UN General Assembly.
The Speaker asserted that the two chambers of the National Assembly have played a major role in achieving the noble goals of the principles of peace, which has been achieved through adopting legislation and laws that reinforce such concepts and promote them in thought, culture, and practices.