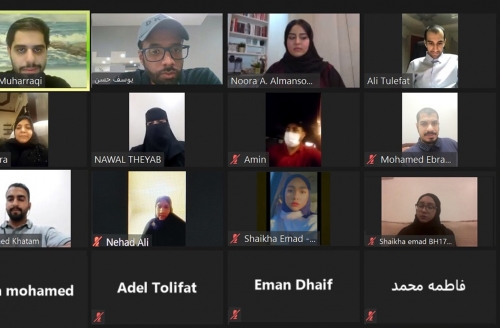 SCW youth committee holds 'Life Experience' activity
TDT | Manama
The Supreme Council for Women's youth committee held a video conference for one of its activities entitled "Life Experience". This is part of the committee's continued virtual activities amidst the current circumstances being faced due to the coronavirus (COVID-19) pandemic.
During the activity, committee member Eng Ali Talfat spoke on his experiences in dealing with multiple sclerosis, with the participation of 40 young men and women from the committee. He reviewed the biggest challenges he has faced since he was diagnosed with the disease and how he adapted to the situation while studying engineering.
He also spoke about how he manages to overcome this difficult stage with hope, faith and persistence, in light of the family support he receives—especially from his mother, his greatest supporter—who has helped him overcome many obstacles and lead a normal life.
The idea of the committee's "Life Experience" activity is to highlight inspirational community experiences and identify their most important lessons in overcoming challenges. The SCW youth committee was formed in 2003, based on the directives of Her Royal Highness Princess Sabeeka bint Ibrahim Al Khalifa, wife of His Majesty the King and SCW president, to care for young men and women, and enable and provide them with the necessary skills that qualify them to support the national development process.