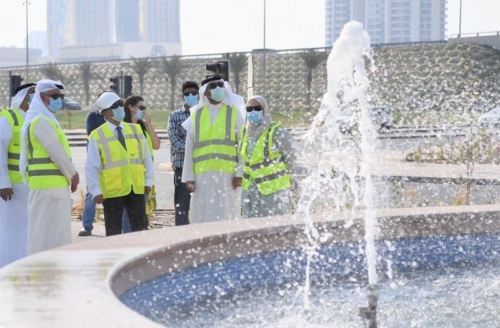 TDT | Manama
The Ministry of Works, Municipalities Affairs and Urban Planning is proceeding with its implementation of an integrated scheme to intensify the afforestation and beautification work at a number of locations across the Kingdom.
Works Minister Eng Essam bin Abdullah Khalaf said that the ministry, within its national tree-planting strategy, has developed a plan of action to increase the green areas and beautify several intersections, bridges, streets and public squares.
This follows the government's work programme, headed by His Royal Highness the Prime Minister Prince Khalifa bin Salman Al Khalifa. The Works Minister conducted a visit to a few areas where the project is being carried out. He inspected a number of intersections and streets to determine the aesthetic situation for afforestation and for the development of the required irrigation system.
The Works Minister was accompanied by the ministry's Municipal Affairs undersecretary Eng Shaikh Mohammed bin Ahmed Al Khalifa and Joint Municipal Services assistant undersecretary Eng Shawkia Humaidan, Capital Municipality director general Eng Mohammad Al Sahli, and other officials. During an inspection at Al Farouq intersection, a trial run of a water fountain project was carried out.
The Works Minister explained that the project is being developed on an area estimated at about 22,000 square metres, with a green area designated at about 12,000sqm for a plan to increase the cultivation of trees. The project is one of the most important within the ministry's plan to afforest and beautify locations across Bahrain, the Works Minister said.
He also inspected the aesthetic situation along a number of streets and directed for the expansion of green areas, the habilitation and renovation of fountains, and developing irrigation systems and reservoirs, with the aim of beautifying these locations.
The Works Minister stressed the ministry's continued efforts to promote sustainable urban development to improve the environment and increase green areas. He noted that the ministry continues to implement its programmes related to agricultural and beautification work, which also aim to enhance the quality and efficiency of services provided to citizens and residents. The Works Min - ister added that the ministry's strategy of carrying out street beautification also contributes to helping preserve the environment.