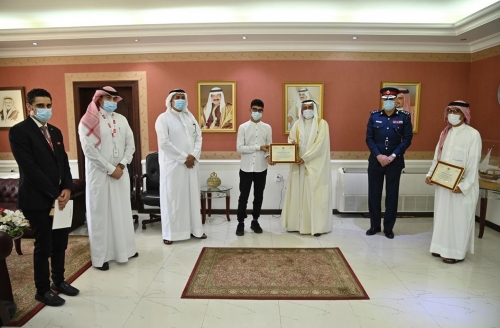 Bahraini honoured for returning misplaced cash
TDT | Manama
Northern Governor Ali bin Al Shaikh Abdulhussain Al Asfour has honoured Bahraini Hassan Mohamed Al Aswad for returning money he had found in an automatic cash deposit machine in Jannusan. Al Aswad found the money after the owner had forgotten it while depositing the money at a National Bank of Bahrain (NBB) machine.
Al Aswad handed over the amount to a nearby police station. The Northern Governor expressed his thanks and appreciation to Al Aswad for setting an example of good citizenship, noting his sincerity in returning the money to the owner, which comes out of his commitment to social responsibility.
The honoring was attended by Deputy Northern Governor Brigadier Khaled bin Rabia Sinan Al Dossary, Northern Governorate Police Directorate director-general Brigadier Issa bin Hassan Al Qattan, Institutional Relations head Hisham Abu Al Fath, and NBB Money Transfers and Cash Deposit Machines director Mohammed Al Saffar.