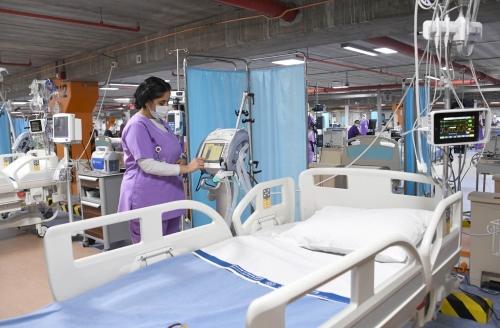 37,840 Covid-19 recoveries in Bahrain
Manama
Kingdom yesterday announced a new corona-virus (COVID-19) death, a 55-year-old expatriate man, raising the total number of deaths from the pandemic to 147. Health Ministry announced the latest death on its twitter handle and offered condolences to the family of the deceased.
There are currently 71 patients in the Kingdom who are receiving treatment at various facilities, of which 41 are admitted to critical care.
Some 2,995 active cases are there in the Kingdom, Health Ministry said, out of which 2,954 patients are in a stable health condition.
The ministry also said it carried out 4,326 COVID-19 tests in the Kingdom yesterday to identify 227 new patients.
Some 92 of the newly detect- ed cases were expatriate workers. There were also 130 cases, who were contacts of active cases. Five travel related cases were also detected.
New 483 recoveries were also detected bringing the total number of people cured of their infection in the Kingdom to 37,840.
Bahrain, as of yesterday, conducted some 830,998 tests.
According to the Health Ministry's contact tracing pages, during the period from 23 July to 29 July, Bahrain detected some 2,675 confirmed cases, of which 1283 were Bahrainis and 1,391 were expatriate citizens.
The average number of cases per day has declined during the week to 382 from 439 cases de- tected per day during the week before.
Most of the cases were detected were contacts of active cases 1004 of the total cases.
Altogether, last week, six people, the ministry said, were instrumental in passing on the infection to 56 others.
A 60-year-old male citizen, who tested positive after developing symptoms, found was in touch with 10 other across seven households. Seven of the cases, including the index patient's wife, children and grandchildren, were direct contacts.
In another incident, a 60-year-old Bahraini man, also tested positive after developing symptoms, passed on the dis- ease to 10 others across seven households. Seven of the cases, including the index patient's wife, children and grandchil- dren, were in direct contact.
BeAware App alert led to finding a 29-year-old male expatriate who came near with a positive case. Contact tracing led to finding a total of 10 additional cases, all of whom came into contact with the index case at work.
The ministry, during the same week, also reported four other incidents, in which each of the positive cases ended up infecting more than 10 others.
Cases included that of a 47-year-old male expatriate, who gave the infection to 13 others, a 62-year-old female citizen, who was responsible for infecting 11 others, a 43-year-old male expatriate who passed on the virus to nine others and a 33-year-male expatriate, who was in contact with 12 other expatriates.
The 33-year-old expatriate man came in contact with 11 of his colleagues in the same company, impacting seven dif- ferent families in two different buildings.
In all, the cases affected more than 16 households in the Kingdom. Six months after the World Health Organisation (WHO) declared a global emergency, the novel coronavirus has infected more than 17 million people and wreaked global economic may- hem. Global daily cases are now approaching the 300,000 marks, with the curve showing no sign of flattening. it took just 100 hours for one million new cases to be recorded.