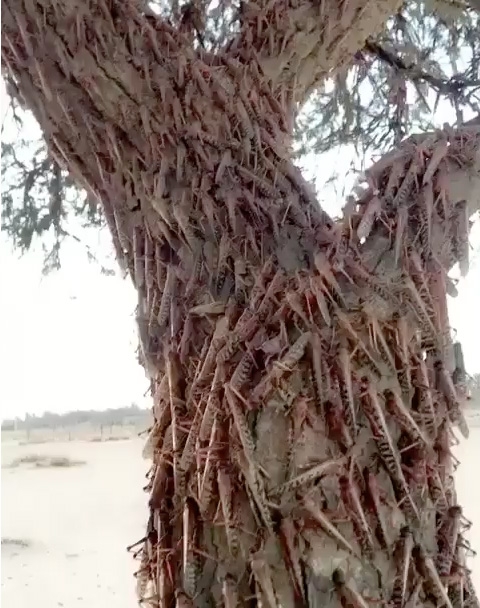 Swarms of locusts invade Bahrain
TDT | Manama
Swarms of desert locusts that have been reaping havoc across Saudi Arabia have spread to Bahrain yesterday. Citizens and residents were astonished in seeing hordes of locusts descending upon them from the sky as they stepped out of their houses in several parts of the Kingdom. The swarms, however, were mild and not as critical as reported in Saudi Arabia, where it had spread throughout the central, eastern and western regions including Riyadh, Japan, Mecca, Qassim and more.
"It didn't cause major concern to us, though its sudden appearance took us by surprise," said a resident in Tubli where the swarm was visible. Experts say strong winds from Saudi Arabia might have brought these insects into the Kingdom. Mobile footages of the swarms were posted by many on social media platforms, which soon went viral in the Kingdom. Authorities also sprung into action. Ministry of Works, municipalities and urban planning immediately send teams of experts to contain the situation before spiralling out of hands.
The Agriculture and Marine Resources Department at the Works, Municipalities Affairs and Urban Planning said it's following the spread in some regions of the Kingdom and teams from the Plant Protection and Quarantine section are spraying the affected areas. Bahrain is not within the locust itinerary The Ministry stated that they are in constant touch with Saudi Arabian authorities. "There is continuous communication with the National Centre for Locust Research and Control in Saudi Arabia to exchange information regarding developments of locust outbreak in the region," said the Agriculture and Marine Resources Department.
Confirming that "there is no need to panic", the depart said that they had been following up the developments of locust outbreak in the region, since early February. They explained that the locust outbreak was caused by an atmospheric depression from the southern side that ends in Manama, causing wind speed to reach 30 kilometres per hour, which contributed to transporting large locust swarms from Yemen and Oman to Dammam, Al-Ahsa and Buqayq in Saudi Arabia. Bahrain is not within the locust itinerary, and that some locust numbers reach it from time to time, stressing that it is often not dangerous. In a statement to BNA, the department asserted that according to the official classification of the Commission for Controlling Desert Locust in the Central Region, "Bahrain is among countries in which locusts spread, and not those in which they multiply, and which include Egypt, Sudan, Ethiopia, Oman, Saudi Arabia and Yemen."