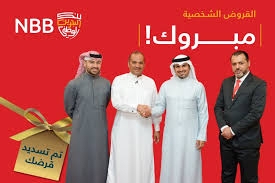 Saleh wins NBB's personal loan cash back
Jasim Mohamed Saleh was named the final 2019 winner of the National Bank of Bahrain's (NBB) Personal Loan Cash Back campaign for December.
He received a cash-back reward covering up to BHD 15,000 from his loan amount. Saleh was presented with the award in the presence of NBB's Retail management team on 9th of February at NBB's Atrium Mall branch.
Accepting the reward, Jasim Mohamed Saleh said: "I am extremely ecstatic to have won the personal loan cash-back prize from NBB, and was very delighted when I received the call and heard the news.
I immediately shared the happy news with my family." Commenting, Subah Abdullatif Al Zayani, Head of Retail Banking at NBB, said: "The Personal Loan Cash Back Campaign is in line with NBB's commitment to reward the Bank's loyal customers for selecting NBB as their preferred bank and benefiting from its products and services." Ahmed Faisal Al Maskati, Head of Asset Products at NBB, said: "We would like to congratulate our last winner and we invite all our customers to look forward to our upcoming promotions in 2020".