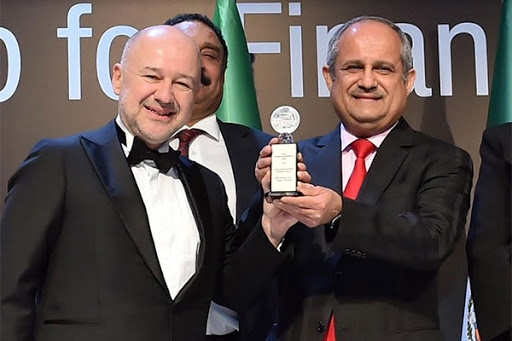 Tamkeen has received The Best Governmental Agency of the Middle East Supporting Entrepreneurship award at the World Congress WBAF 2020 held in Turkey. The award ceremony took place at the World Congress WBAF 2020 VIP Gala dinner where Tamkeen was selected amongst a group of participating organisations from the Middle East. This award highlights Tamkeen's role and efforts within the entrepreneurship sector since it provides various services and programs for entrepreneurs and contributes to the country's social and economic status.
The Chairman of Tamkeen, Shaikh Mohammed bin Essa Al Khalifa commented on the achievements Bahrain has attained with its strong presence within the region especially through its programs and services offered to entrepreneurs. According to him, this represents a promising plan to develop the national economy, pointing out that this award also reflects the country's vision of improving its economy and supporting the entrepreneurship sector. Dr Ebrahim Mohammed Janahi, the Chief Executive of Tamkeen also expressed his delight on receiving such an award as it proves Bahrain's continuous efforts to grow its economy.
"This is one of the most prominent international awards hosted by the World Congress, where more than 1,500 participants from all around the world attend this event to discuss the most important and recent topics around global economic developments in addition to investment opportunities and how to strengthen the development of sustainable global economies." For his part, Baybars Altuntas, Chairman of the Board of Directors, World Business Angels Investment Forum (WBAF) extended his congratulations to Bahrain on this achievement and expressed his confidence in the contribution of Tamkeen's role in supporting the startup ecosystem and entrepreneurship. "This award is presented to organisations that demonstrate best practices in the region and salute those who stand out in imagining, discussing, and shaping the future of an entrepreneurial world," he added. The World Congress WBAF 2020 is considered one of the world's most important fixtures for early and post-early stage equity and capital markets.