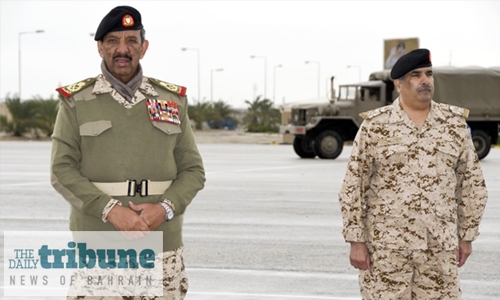 BDF has turned into a formidable force, says Commander-in-Chief
Bahrain Defence Force (BDF) has grown into a formidable force in terms of military, combat and administrative readiness, BDF Commander-in-Chief, Field Marshal, Shaikh Khalifa bin Ahmed Al Khalifa said.
The BDF, Shaikh Khalifa said, is moving steadily and professionally towards its objectives, thanks to the constant care and great attention of His Majesty King Hamad bin Isa Al Khalifa, the Supreme Commander.
The commander-in-Chief was visiting one of the BDF units yesterday to review its military and combat readiness and training programmes.
Shaikh Khalifa said BDF is firmly moving towards boosting its competence and aptitudes to reach the highest levels of combat and administrative readiness.
The BDF Command - er-in-Chief hailed the dedicated efforts of the BDF personnel and their keenness on rising to their responsibilities.