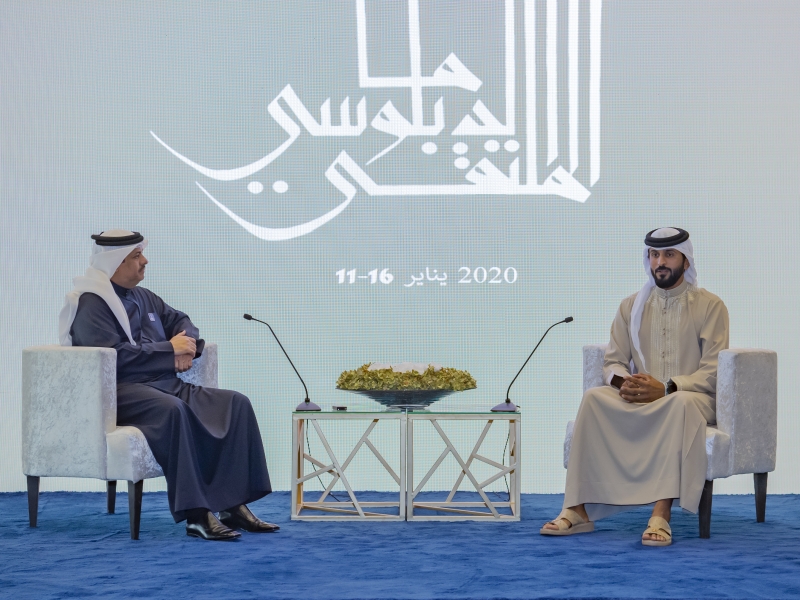 Kingdom's diplomatic strides, peace efforts stressed at major conference
The Minister of Foreign Affairs, Shaikh Khalid bin Ahmed bin Mohammed Al Khalifa, noted that the Day of Diplomacy, which was allocated by His Majesty King Hamad bin Isa Al Khalifa, has become a unique annual event that highlights the role of Bahraini diplomacy in supporting Bahrain's achievements at various levels, based on a solid foundation of support by HM the King and the reform approach, which developed the political, economic and social fields in the Kingdom.
The minister was speaking as he participated in opening the Diplomatic Forum in the presence of the Saudi Minister of State for Foreign Affairs and Cabinet Member Adel Ahmed Al Jubeir, Gulf Co-operation Council (GCC) Secretary-General Dr Abdullatif Al Zayani, senior officials and diplomats. Shaikh Khalid expressed deep thanks and appreciation for the keenness of the participants to share their expertise and successful practices, adding that the experience will strengthen the role of diplomatic missions abroad to continue Bahrain's proactive policy.
Bahrain's foreign policy is committed to asserting the sovereignty, independence, and territorial integrity of the Kingdom, as well as protecting its security, defending its interests, enhancing its global position and reputation, in addition to strengthening its relations with brotherly and friendly countries and developing co-operation with regional and international organisations, he said. The Kingdom is also keen to defend Arab and Islamic issues and promote the values of peace, coexistence and dialogue among various cultures, and combatting extremism and terrorism, Shaikh Khalid added. Mr Al Jubeir stressed the depth of relations between Bahrain and Saudi Arabia which extend to centuries, not years or decades, noting their steady consensus in facing challenges, thanks to the wisdom of their leaders and to the good balance, rationality and foresight of their policies.
He stressed the ability of the two countries to continue to accomplish achievements and face various challenges in light of their close co-operation and co-ordination. The Day of Diplomacy included discussion sessions that addressed the objectives and strategies of the government action, culture as a stepping stone to Bahrain's international standing, and Bahrain's economy in its global context The ceremony featured the screening of a documentary about Bahrain's policies in the past and present and the presentation of the Diplomatic Excellence Awards to the Ministry of Foreign Affairs laureates in recognition of their distinguished merits.
Separately, Shaikh Khalid received Mr Al Jubeir, in the presence of Dr Al Zayani. The two sides reviewed the historic solid relations between the Kingdom of Bahrain and the Kingdom of Saudi Arabia, hailing their development in all fields. They also affirmed their keenness to continue co-ordination and co-operation regarding various issues in all international forums. They exchanged viewpoints on ways to strengthen the GCC process and discussed the latest developments in the region as well as supporting all efforts to enhance regional and international peace and security. National Security Advisor, Royal Guard Commander Major General His Highness Shaikh Nasser bin Hamad Al Khalifa received at his majlis yesterday Foreign Minister Shaikh Khalid, Dr Al Zayani and Bahraini ambassadors abroad.
Major-General HH Shaikh Nasser thanked the ambassadors taking part in the forum for their efforts to serve Bahrain and promote its international status. He said Bahrain, under the leadership of His Majesty King Hamad bin Isa Al Khalifa and the support of His Royal Highness Prime Minister Prince Khalifa bin Salman Al Khalifa and His Royal Highness Prince Salman bin Hamad Al Khalifa, Crown Prince, Deputy Supreme Commander and First Deputy Premier, represents a pioneering model in foreign policy that is based on the principles of respect, positive cooperation, no interference in other countries' internal affairs, emphasising the kingdom's sovereignty and territorial integrity, protecting its security and defending its interests.