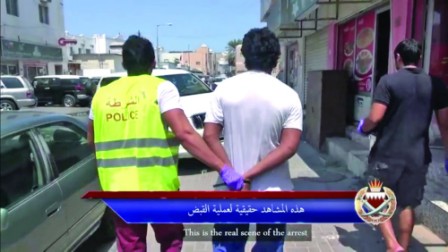 Manama
A group of Asians were arrested recently for operating a drug-dealing ring in Muharraq as well as other parts of Bahrain.
The arrested group were allegedly responsible for operating a sophisticated ring supervised from outside Bahrain by another man. The accused used to take orders from the latter, and execute the deals.
Sales were made as per orders received, while payments were accepted outside the Kingdom from Bahraini residents. Products were then delivered to customers at a later time. Officials described it as a 'strange and new method' of drug dealing.
The men were arrested and 50 capsules of heroin as well as money from dealing drugs were seized.
"The anti-narcotics directorate was tipped off with a secret information about some Asians who were doing drug deals in various parts of Bahrain. The information was investigated and a special team was formed to follow up the case and arrest the offenders," a senior police officer revealed on Interior Ministry's Al Amn Channel.
"It was found that the team had adopted strange and new methods to execute their programmes. The master-mind and the main target lived outside Bahrain and managed individuals of the same nationality staying inside Bahrain to store and distribute drugs," the report added.
According to investigators, the group was active mainly in the Muharraq area. "When a buyer wanted drugs, he contacts the dealer. The dealer, who is the main suspect, then asks for money to be sent as a remittance outside Bahrain through financial companies. The buyer calls the seller through an international phone number to discuss the price of the wanted quantity. After the main suspect receives the money, he calls up those inside Bahrain and directs them to leave the drugs in certain places (for the buyer to collect)," the officer said.
Investigators found two houses the accused had used. "It turned out that there were two houses, one where they lived in and another where they stored the drugs. After suspects and their houses were identified, arrest and search warrants were issued by the public prosecutor," the officer added.