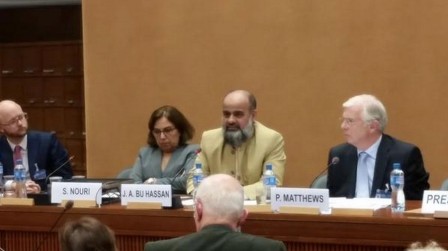 Dashti stays out of UN building
Manama
The Kuwaiti MP, who assaulted a Bahraini parliamentarian in Geneva recently, was banned from entering the United Nations building, where the incident took place.
As reported on Thursday, MP Jamal Buhassan was assaulted by Kuwaiti National Assembly (Parliament) Member Abdulhameed Dashti, who aggressively snatched his phone from his hand, damaging it.
The incident took place while both parliamentarians were taking part in a convention organised by representatives of Bahraini opposition, on the sidelines of the 30th regular session of the United Nations Human Rights Council (HRC) in Geneva, Switzerland on last Tuesday.
Buhassan told DT News yesterday that security forces banned Dashti from entering the building, after the former filed an official complaint against him.
The MP confirmed, "Dashti didn't attend the second session of the convention on Thursday, as the assault was considered direct and straightforward. Most probably he will not attend the closing session tomorrow."
"Dashti and a number of his supporters who are participating in the convention requested me several times to withdraw my complaint so that he could rejoin them in the event. However, I rejected the requests. Security officials are still looking into the matter and I will not waive my legal rights," Buhassan said.
DT News reported earlier that Dashti snatched Buhassan's mobile phone, while the latter filmed an argument involving Dashti and a reporter, over Dashti's supporting stances to Syrian President Bashar Al Assad.
Dashti's act was highly condemned by GCC Parliamentarians, journalists and officials, calling it as "shameful behaviour."