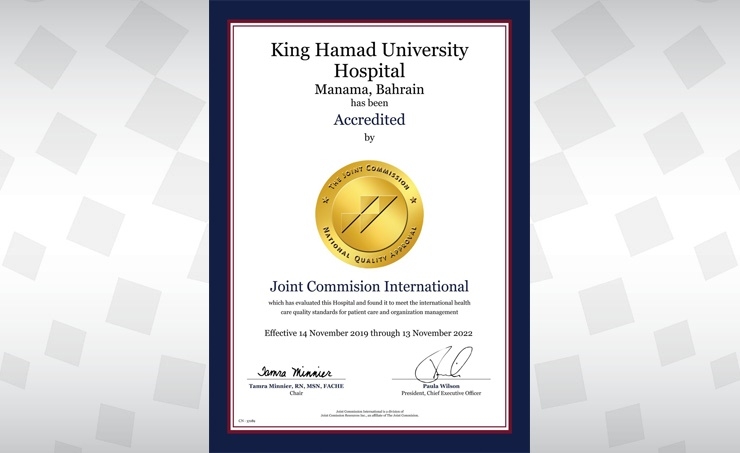 KHUH obtains JCI accreditation
Manama : The King Hamad University Hospital (KHUH) has successfully passed the external audit and obtained the Joint Commission International (JCI)'s accreditation.
The KHUH's external audit focused on diverse criteria and standards of quality management as well persistent efforts to apply the principles of quality and patient safety as the first governmental hospital in the Kingdom.
Major-General Dr. Shaikh Salman bin Ateyatalla Al Khalifa, Commander of the King Hamad University Hospital, ascribed the achievement as the result of the hospital's outstanding, top quality medical diagnostics, treatment, rehabilitation and training services hence passing the evaluation process and obtaining the JCI accreditation.
A specialized experts team undertook the evaluation of qualification for accreditation by the Joint Commission International which approves health facilities in countries around the world.
Major Mona Ahmed, Director of Quality Management and Patient Safety Department in the King Hamad University Hospital said the JCI accreditation is the highest criterion and most rigorous in terms of excellence in the health services, expressing her pride as well as that of the working team to achieve this feat as a result of the efforts by the team for a lengthy period.
The KHUH's obtaining the JCI accreditation has been one of the key strategic goals of the hospital administration led by Major-General Dr. Shaikh Salman which confirms the precision work and close follow-up aimed to continuously develop and upgrade the services provided by the KHUH