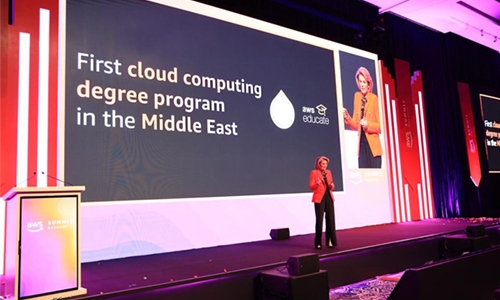 UoB, AWS announce cloud computing degree programme
In a first in the Middle East, the University of Bahrain (UoB) announced launching a new cloud computing degree programmes for nextgen cloud professionals. The one-year cloud computing certificate and a full cloud computing bachelor's degree programme will be launched in collaboration with AWS Educate Cloud Degree initiative, UoB said in a statement.
AWS Educate is AWS's global initiative to provide students and educators with the resources needed to accelerate cloud-related learning. The AWS Educate Cloud Degree initiative is a collaborative effort between AWS Educate and leading educational institutions to develop degrees and certificates in cloud computing.
One-year cloud computing 101 certificate
Offered initially to students in the engineering, ICT and business colleges, the one-year cloud computing 101 certificate programme will start in 2020 and extended to all degree courses by 2021.
Four-year bachelor's degree
The four-year bachelor's degree in cloud computing will start in the fall semester of 2020. It will equip students with technical skills and hands-on experiences for careers including cloud architecture, cybersecurity, software development, and DevOps. LinkedIn has identified clouds as the top skill that companies need most for four years in a row. In UOB's 2019 own executive survey, 25 per cent of current local employers cite training of their staff in cloud computing as a priority.
"Cloud computing is having a powerful effect on the tech capabilities in the Middle East and is enabling innovative projects across artificial intelligence (AI), Blockchain, enterprise mobility, Internet of Things (IoT), and so much more," Prof Riyad Hamza, President of UOB, said. Ken Eisner, Director of Worldwide Education Programmes for AWS and head of AWS Educate, said they were excited to collaborate with the University of Bahrain.
"As the region's cloud adoption continues to grow, building a cloud-ready workforce is a priority and an unprecedented opportunity. We hope to collaborate with more educational institutions in the Middle East and support career pathways in technology for diverse populations across the region and beyond," Eisner said. In July 2019, AWS announced the availability of the AWS Middle East (Bahrain) Region, giving developers, startups and enterprises the ability to run their applications and serve end-users from data centres located in the Middle East.