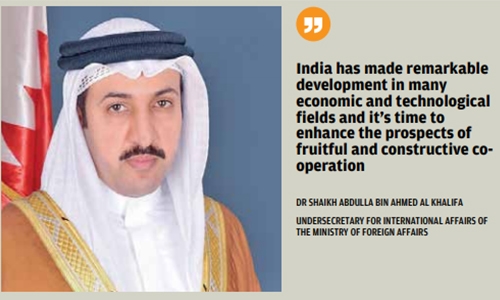 India-Bahrain in new era of bilateral ties
Indian Prime Minister Narendra Modi's visit to Bahrain will add a new momentum to the solid relationship and co-operation between the two friendly countries, said Dr Shaikh Abdulla bin Ahmed Al Khalifa, the Undersecretary for International Affairs of the Ministry of Foreign Affairs.
"The visit is of exceptional importance" to the Kingdom, Dr Shaikh Abdulla said explaining the historical ties and strategic relations between the two countries. Recalling the historic visit of His Majesty King Hamad bin Isa Al Khalifa to India in February 2014, the Undersecretary stressed that this laid the strong foundation for a close and long-standing partnership between the two countries.
India, the Undersecretary said, has made remarkable achievements in many economic and technological fields, while pointing out the need for enhancing the prospects of fruitful and constructive co-operation. In this regard, Dr Shaikh Abdulla highlighted the role played by Bahraini-Indian Joint Committee in boosting bilateral ties.
"Kingdom under the leadership of His Majesty the King is moving forward steadily to establish strong and diverse partnerships with friendly countries," said Dr Shaikh Abdulla. Modi's visit, the Undersecretary said, underlines the vital status of Bahrain in the international arena, thanks to the wisdom of its leaders and stability of its positions and economy in line with Bahrain's Economic Vision 2030.
Dr Shaikh Abdulla praised the role of the Indian community and its contribution to the development of Bahrain while taking pride in the efforts exerted in the field of expatriate care.