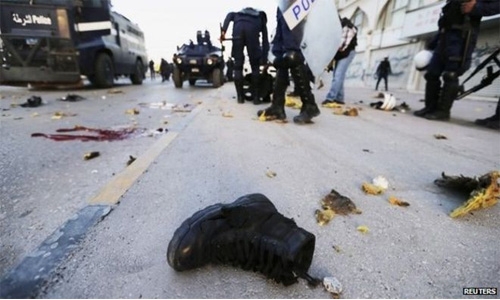 Bomb targets Bahrain police, terrorist reveal
Manama : A Bahraini man accused of a bomb blast in East Aker yesterday revealed that the bomb was aimed at police officers.
The bomb explosion, which occurred due to an error, killed an 18-year-old Bahraini boy and injured another.
The defendant was with the victims, and he told police that they were planning to target police officers.
He revealed that the bomb was carrying highly-explosive material. Police found another bomb with the same material, but it did not detonate and was eventually dismantled.
Two other defendants were also implicated in the same case, but they are at large and are being tried in absentia.
According to court files, the deceased, identified as Qassim Mohsin Ali, was a student who had just returned from Iran before the explosion.
The defendant told prosecutors that he had agreed with the 18-year-old boy and his co-defendants to meet at the place of the explosion.
"I was tasked to survey the area from the rooftop of a house. Suddenly I heard an explosion, so I went home. Then I learned that he (the 18-year-old boy) accidentally activated the bomb and it exploded," the defendant had said.
The bombing occurred last July 15. All the defendants involved are Bahrainis. They have been charged with causing an explosion and possessing bombs.