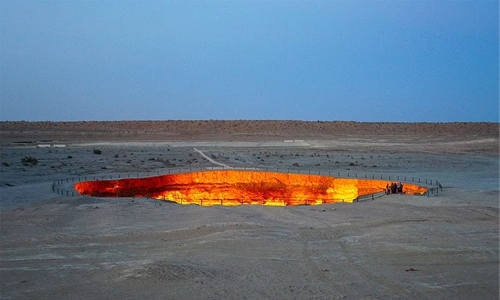 Indian Scientist set to visit 'Door to Hell'
After having visited 125 countries, T.N. Suresh Kumar, a senior Indian scientist, is all set to explore the 'Door to Hell' shortly. The scientist who is on a mission to visit 28 more countries revealed this during his visit to the Kingdom of Bahrain recently. The 'Door to Hell' or 'Gates of Hell', is a natural gas field collapsed into an underground cavern located in Derweze, Turkmenistan. Geologists intentionally set it on fire to prevent the spread of methane gas, and it is thought to have been burning continuously since 1971.
T.N. Suresh Kumar, a senior scientist who was working with the ISRO's Master Control Facility in Hassan, was in Bahrain to attend a seminar titled Journey to Edge of Space and Zero Gravity at the Wyndham Garden Hotel in Juffair. The programme was organised by the Institution of Engineers (India) Bahrain Chapter. Kumar is the first Indian to visit the stratosphere – the second major layer of the Earth's atmosphere.
He made it to an altitude of 17,100 metres on August 15, 2014 in a MIG-29 from Sokol Airbase near Nizhny Novgorod in Russia paying a hefty fee of around INR 15 lakhs (BD 8000) from his savings. "It was a once-in-a-lifetime experience and one that I have been dreaming of for two decades. I am happy I did it," Kumar says.
The flight reached a maximum speed of 1,850 km per hour, reaching the stratosphere in 48 minutes. With this, Kumar became the 259th person and the first Indian to take the flight ever since the Country of Tourism Ltd., an agency conducting space travel in Russia, started the journey called 'Edge of Space'.
"Money alone will not buy oneself this opportunity. They look for physical fitness, communication skills and a basic knowledge of science before selecting people for this journey," he said. During the selection process Kumar had to take clearances from different agencies, including his workplace and embassies. Kumar nurtured space travel dreams since 1985 when he was one among the four selected by ISRO to travel to space.
But he missed the chance when the flight was called off following the explosion of space shuttle 'Challenger' in February 1986. "It was highly disappointing. Later, my wife and I decided to save a major part of our earnings for travel," he said. Kumar has visited 170 countries across seven continents over the last 20 years. His wife Geetha, also a senior scientist at MCF in Hassan, has accompanied him to 100 countries.
"I am a budget traveller and plan the trips well in advance to avoid extra expenditure on airfare. I carry ready-to-eat food and spend little on lodging," he said. Kumar also interacted with 200 science students of Indian School Bahrain.