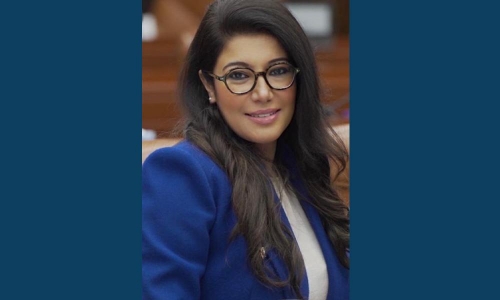 Bahrain-US ties overcome security challenges, promote global peace
TDT | Manama
The Daily Tribune – www.newsofbahrain.com
H.E. MP Dr Maryam AlDhean, Member of the Committee on Foreign Affairs, Defence and National Security of the House of Representatives, affirmed that the historic agreement signed by His Royal Highness Prince Salman bin Hamad Al Khalifa, the Crown Prince and Prime Minister, and His Excellency Mr. Anthony Blinken, Secretary of State of the United States of America, would advance the level of cooperation between the two countries towards greater integration.
The ongoing commitment between the Kingdom of Bahrain and the United States of America was in the context of countering threats and threats, countering terrorism, cybersecurity, border security programmes and law enforcement cooperation, consistent with the principles supporting the international system.
She pointed out that the Kingdom of Bahrain and the United States of America share many common goals and values, which represent a friendly country and a strategic ally. Blateral relations at the diplomatic level are mutually beneficial, especially as the Kingdom of Bahrain plays an important strategic role through its ongoing cooperation by hosting the Fifth American Fleet.
Bahrain plays an important role in securing navigation in the Arabian Gulf and maintaining energy supplies and oil vessels in the region waters boundaries through its cooperation with Washington in this regard.
She added that the historic strategic partnership between the two countries through mutual agreements and visits confirms the role played by the United States of America and its support for brotherly and friendly countries, and its endeavours to strengthen security and establish stability in the region and the world with a view to achieving comprehensive development in various areas, pointing to the various challenges facing the entire world, which inevitably require coordination and joint integration.
Moreover, the attention paid to the security aspect of the agreements is a fundamental pillar. Strengthening the security and defence system will help to maintain stability and peace and allow for expansion and development in the economic, technological and development fields.
It is to be commended for the steady increase in the volume of trade between the two countries, which is based on the second agreement. H.E. Dr Maryam affirmed that the Bahraini-American cooperation includes universal values, particularly with regard to human rights and fundamental freedoms, and builds on ongoing cooperation in the human rights dialogue between the two countries.
We are proud that Bahrain maintains first place in the annual report of the United States Department of State on human trafficking. The US and Bahrain were eager for comprehensive and growing educational and cultural exchanges and expanded opportunities for Bahrainis to study in the US, in addition to cooperation in the area of health through a bilateral mechanism that emphasized the close partnership between the two countries.