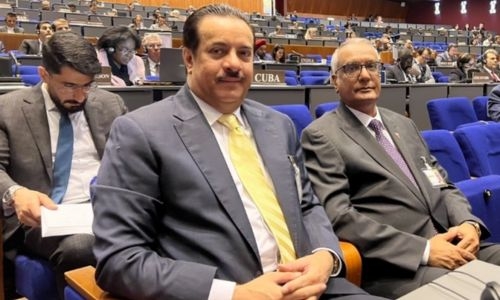 Bahrain calls for Middle East zone free of weapons of mass destruction
TDT | Manama
The Daily Tribune – www.newsofbahrain.com
The Kingdom of Bahrain attended the fifth review meeting of the Organization for the Prohibition of Chemical Weapons, held in The Hague, the Netherlands, on May ay 15-19.
Bahrain's Ambassador in Brussels and Representative to the organization Abdulla bin Faisal bin Jabr led the Kingdom's delegation which included Brigadier General Samir Ahmed Al-Zayani, First Vice-Chairman of the National Committee for the Prohibition of Weapons of Mass Destruction.
During the meeting, the delegation praised the efforts made by the director general and the role of the technical secretariat, stressing the continuous and constructive cooperation with the Kingdom of Bahrain represented by the National Committee on the Prohibition of Weapons of Mass Destruction.
The session reviewed Bahrain's efforts to implement the Chemical Weapons Convention, highlighting the establishment of its National Committee in 2011, the national workshops to introduce the content of the Convention and its most important requirements, and the active participation in relevant regional and international meetings and training courses.
Bahrain's issuance of a law banning the development, production and stockpiling of bacteriological (biological) and toxin weapons and their destruction was also highlighted.
During the meeting, the delegation called for a Middle East zone free of weapons of mass destruction, stressing the importance of strengthening international cooperation in the fields of using chemicals for peaceful and beneficial purposes and supporting international efforts to achieve the universality of the Convention.