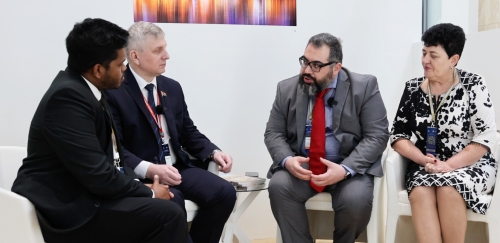 Youth parliamentarians empowered at Inter Parliamentary Union
TDT | Manama
The Daily Tribune – www.newsofbahrain.com
Reported by Ashen Tharaka
Dan Carden, newly appointed president of the Inter Parliamentary Union (IPU) young parliamentary forum and an MP of Liverpool Walten, expressed his dedication in empowering young legislators across the world and increasing their presence in parliaments, public administration, and decision-making bodies.
"I am strongly committed as chair to the IPU young parliamentary forum to lead the IPU in defending the multilateral order at a time when powerful autocracies work to undermine the rules-based international order which has advanced human rights, peace, and prosperity for every citizen globally in the last 70 years.," Carden said to The Daily Tribune.
Global events
Twenty-eight-year-old Nikola Dragicevic, the youngest member of the Serbian parliament, spoke about the importance of global events such as IPU and how they help nations become knowledgeable about other countries and their humanitarian policies' stances.
When talking about the accomplishments of his country, Dragicevic proudly stated that women make up more than 40% of the members of the parliament. He said that some Asian parliaments should follow their footsteps regarding women participation in the parliament.
When the young MP was asked about the Ukraine-Russian conflict, he expressed his sadness about how it has been dealt with and the bloodshed that came along with the disagreement. Nikola reassured that his country extends support to both nations and wishes that a peaceful agreement occurs sooner than later.
He emphasized how his government is against providing both countries with weapons and military equipment but instead, they have helped by providing resources such as food, clothing, medical assistance and shelter to those that were harmed by the on-going dispute.
Nikola highlighted the importance of youth participation in parliaments and how they can be vital agents of change.
Surge of migration
"One of the main problems the Mediterranean region is currently facing is the current surge of migration from Africa and the Middle East," Italian politician On.Deborah Bergamini told The Daily Tribune.
She said the Italian government wants to suggest a solution that would help both of their economies grow by cooperating.
Strengthening economies
In a separate meeting related to the IPU, representatives from Russia and Belarus met with the head of Bahrain's parliament to discuss strengthening their respective economies.
According to Valery Belsky, the deputy chairman of the Council of the Republic of the National Assembly of Belarus, discussions on international issues, such as ways to end the current situation, continued. He added that Belarus is prepared to expand collaboration in the oil sector by granting access to the technology and resources of their biggest oil production facilities in a way that is beneficial to both parties.
"We would like to enhance the tourist and cultural events, and this kind of sharing is the genuine thing that can be achieved right away with Bahrain," said Olga Germanova, a member of the State Duma and the Legislative Assembly of the Union of Belarus and Russia.