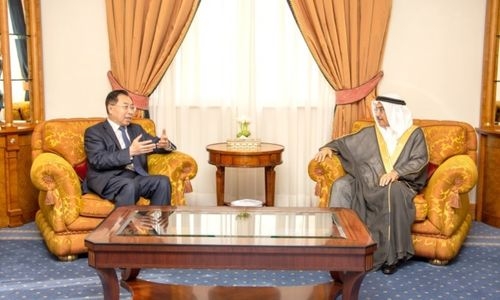 Bahrain succeeding in fight against Covid: Deputy PM
TDT | Manama
The Daily Tribune – www.newsofbahrain.com
Bahrain has succeeded in eliminating Covid-19, which reflects the effectiveness of the national vaccination campaign.
This was emphasised by Deputy Prime Minister Shaikh Khalid bin Abdulla Al Khalifa while receiving yesterday the Chairman of China National Pharmaceutical Group Corporation (Sinopharm), Liu Jingzhen, at the Gudaibiya Palace.
He commended the efforts exerted by Sinopharm, along with other international sides, to combat the virus, stressing the partnership with the UAE, which contributed to the success of the third clinical trials in Bahrain and around the globe proving the effectiveness of the vaccine.
Shaikh Khalid bin Abdulla Al Khalifa praised the relations between Bahrain and China, and their steady growth in various fields, including cooperation in the health sector.
Liu valued highly the efforts exerted by Bahrain, under the leadership of His Majesty King Bahrain Al Khalifa, and thanks to follow-up of His Royal Highness Prince Salman bin Hamad Al Khalifa, the Crown Prince and Prime Minister, to protect the health and safety of the local and international community during the period of the CCOVID-19 pandemic.
They discussed topics of common interest and ways to enhance cooperation between them.
The Deputy Prime Minister highlighted the Kingdom's effective measures to contain the spread of the virus and cushion the impact of the pandemic.
He said that the National Medical Taskforce for Combatting the Coronavirus (Covid-19) had carefully taken the right decisions and implemented wellthought-out plans which resulted in gaining the public trust in rolling out the vaccines, while giving them the freedom to take the one they wanted.
Shaikh Khalid bin Abdulla indicated that 1,241,000 people have received the first dose of various vaccines, which shows the citizens' keenness to protect their safety and that of society.