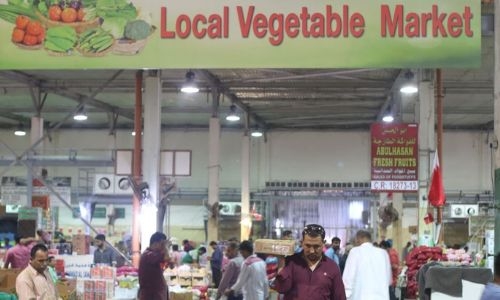 Shopping for veggies at Manama Central Market 'not a cool affair'
TDT | Manama
The Daily Tribune – www.newsofbahrain.com
Buying vegetables at the Manama Central Market turned out to be not "cool" enough for many customers after the air conditioners had stopped working for the last couple of days. Several people who came to the vegetable market complained of getting exhausted by the hot conditions, reports AlAyam, our sister newspaper. People say the issue has also affected goods movements with nearby markets.
However, the Capital Municipality officials termed the issue as temporary, as periodic maintenance of air conditioners in the market is ongoing. "Those works could temporarily affect the cooling efficiency of the air conditioners in the market," the municipal officials said.
"Works at the vegetable market followed that of the meat market," they said, adding that vegetable market works are completed by 70 per cent. Officials said maintenance works at the markets were carried out on a periodic basis. "Year-after-year, we are doing this to ensure the efficiency of the AC units," officials said. "For this, we are in contract with a specialised company that would maintain and detect faults of the units with a work team armed with modern tools and technologies."
The Daily Tribune, a few weeks ago, quoted vegetable and fruit sellers of the market saying that the air-conditioning system needs an immediate repair. "There are many compressors, which are defunct. I request the authorities to immediately carry out the repair work or else it would be difficult to remain here amidst an intensifying summer," a worker said. According to traders, theft is also very common within the market facilities.
They said the authorities should implement a better-sophisticated surveillance system along with a few security guards to avoid thefts. "This is the biggest market in the country and it demands a state-of-the-art surveillance system. We are hopeful that the authorities will take notice of our request."