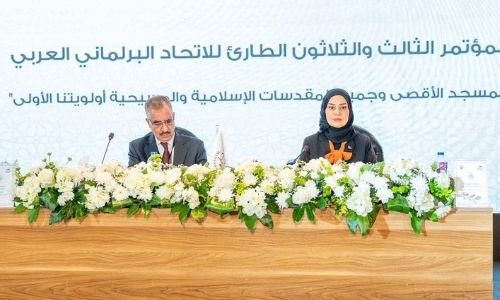 Arab issues, Palestinian cause Bahrain's top priority: Speaker
TDT | Manama
The Daily Tribune – www.newsofbahrain.com
Just causes of Arab nations, foremost being Palestinian cause, are always Bahrain's prime priority, said Parliament speaker and President of the Arab-Interparliamentary Union, Fawzia bin Abdullah Zainal. "This is well evident from the Royal speeches of His Majesty King Hamad bin Isa Al Khalifa, which confirms our firm position on the Palestinian issue," said the speaker. She also pointed out the formation of a permanent qualitative parliamentary committee to support the Palestinian people.
The comments came as Zainal inaugurated the 33rd conference of the Arab Inter-Parliamentary Union in the Egyptian capital, Cairo. Themed "Al-Aqsa Mosque and All Muslim and Christian Sanctities are Our First Priority", the conference kick-started with the participation of the Arab member states.
Bahrain, she said, believes that regional peace depends on the activation of the Arab Peace Initiative for the establishment of an independent Palestinian state. "The violations against the Palestinian brothers require a unified Arab parliamentary position that rejects the attacks on worshipers during Ramadan and repeated provocations against the people of Jerusalem," said Al Zainal.
"These violations are inconsistent with all religious, international charters and treaties and human rights principles." The speaker also underlined the need for a unified parliamentary stance supporting the Palestinian cause and reiterated rejection of the violations and repetitive provocation by the Israeli authorities.
"The challenges the region face requires a renewed determination." The speaker also condemned the killing of the Palestinian Journalist, Sherine Abu Aqleh, near Jenin camp in the Palestinian territories while on duty.
"What happened is a flagrant violation of the rules and principles of international humanitarian law and a blatant transgression of the media and press freedom," she added. Fawzia bint Abdullah Zainal offered condolences to the ruling family in the UAE, the Federal National Council Speaker Saqr Ghobash, and the UAE people over the passing of late Shaikh Khalifa bin Zayed Al Nahyan.