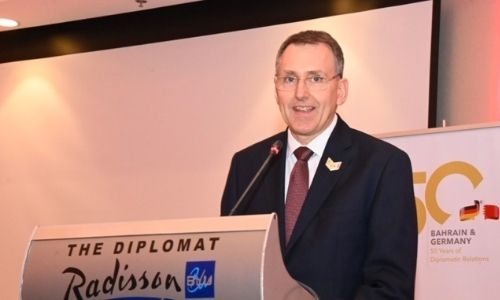 Bahrain, Germany celebrate 50 years of diplomatic ties amid steady growth of partnership
TDT | Manama
The Daily Tribune – www.newsofbahrain.com
The German Ambassador to Bahrain Kai Boeckmann has lauded the steady progress of the partnership between Bahrain and Germany since the launch of their diplomatic relations in 1972. "As we celebrate the 50th anniversary of this important date, I would like to express my gratitude to the Kingdom of Bahrain, especially to HM King Hamad bin Isa Al Khalifa, to HRH Prince Salman bin Hamad Al Khalifa, the Crown Prince and Prime Minister, and the government and the people of Bahrain for their strong commitment and support to the relations between our two countries," Boeckmann said.
"Germany and Bahrain are close and reliable partners, in their bilateral relations and in many international fora. Both share a commitment to the rules-based international order, seeking peace and understanding between nations. Both are active and committed members of regional organisations, the European Union and the Gulf Cooperation Council," he said at a reception to mark the golden jubilee of the relations.
Relations between Bahrain and Germany are strong not only in the diplomatic field, but also in the economic and cultural field, he added. "German companies have invested in Bahrain, employ hundreds of Bahraini citizens and participate in important infrastructure projects. Both countries are committed to Climate Action – Germany has initiated an energy transition from fossil to renewable fuels and therefore strongly welcomes the pledge by His Royal Highness Prince Salman bin Hamad Al Khalifa, the Crown Prince Prime Minister, to reach net-zero emissions by 2060 and a 30% reduction by 2035."
This offers chances for further cooperation bringing together German and Bahraini expertise. Notwithstanding COVID-19, trade between Bahrain and Germany has been constantly on the rise over the last years – in both directions, he said.
In the cultural field, hundreds of Bahraini students have participated in the language courses organized by the German Embassy in cooperation with the Goethe Institute for more than a decade. Musicians from Germany have participated in many of Bahrain's festivals organized by the Bahrain Authority for Culture and Antiquities over the past years. The Gulf German Film Festival 2021 brought new German movies to movie enthusiasts in Bahrain.
"As I look to the future of our relations, I am confident that German-Bahraini friendship will persist and grow over the next 50 years," Boeckmann said.