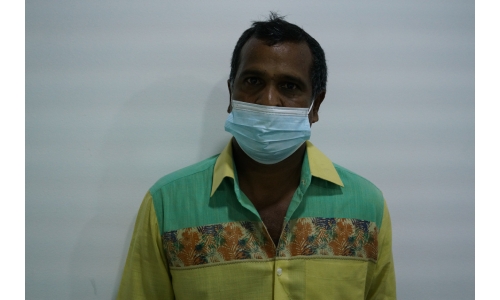 Stranded ailing expatriate pleads for case withdrawal: Bahrain
TDT | Manama
The Daily Tribune – www.newsofbahrain.com
A stranded ailing expat is pleading to his previous employer to withdraw cases against him after suffering a serious spinal disorder.
Indian national Sudhakar Radhakrishnan told The Daily Tribune that he was working with a construction company as a foreman. "I came to the Kingdom in 2017 for a salary of BD450. After working for one year and five months, I went home for 15 days as my brother suffered injuries in an accident. When I came back and joined the work, things weren't the same.
"The company stopped paying me, claiming that it had suffered losses because of me. They asked me to give BD3,800 to settle the losses they have suffered. The company filed a case, which led to a travel ban. However, that travel ban was lifted after Hidd Police resolved the matter and I went home on January 21, 2019."
Sudhakar came to the Kingdom again after five months after being recruited by a new employer. But, he could not work for a longer period of time after suffering a serious spine disorder. As he planned to leave the Kingdom, he came to know that a travel ban existed against him, and this time magnitude was much higher. "A new case had been filed against me by the previous employer, accusing me of cheating the company of BD13,000."
"I can't walk. A serious surgery is required to cure my condition, for which I have to go home. I don't have money to survive and where is the question of paying BD13,000?" he asked, pleading for help.
Social workers Sudheer Thirunilath, World NRI Council Humanitarian Director for the Middle East along with Senthil G K of Annai Tamil Mandram have stepped in to help Sudhakar.