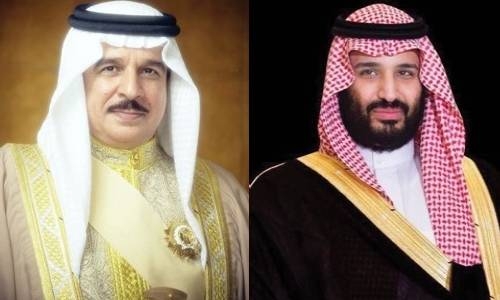 His Majesty King Hamad to welcome Saudi Crown Prince today on official visit to Bahrain
TDT | Manama
The Daily Tribune – www.newsofbahrain.com
His Majesty King Hamad bin Isa Al Khalifa will lead the well-wishers in welcoming Saudi Arabia's Crown Prince, Deputy Prime Minister and Minister of Defense His Royal Highness Prince Mohammed bin Salman bin Abdulaziz Al Saud upon his arrival in Bahrain today on an official visit, the Royal Court has an[1]nounced. HRH Prince Mohammed is setting off on a tour of Gulf Arab states, including Oman, the UAE, Qatar, Bahrain and Kuwait, ahead of a Gulf summit this month.
He has already visited Oman, the UAE and Qatar before coming to Bahrain on the fourth leg of his tour. The Royal Court said the talks between HM the King and HRH Prince Mohammed would cover the close and distinguished historical brotherly relations binding the two countries and peoples, as well as the latest regional, Arab and international developments.
The Royal Court welcomes the honorable guest and the accompanying delegation and wishes HRH a pleasant stay in the Kingdom of Bahrain, it added. Bahrain and Saudi Arabia's strong and deep relations are based on solid foundations of partnership and joint coordination at all levels, making them a role model to be emulated and a source of pride.
The distinguished cooperation and complementarity between the two brotherly countries is a result of the unwavering interest of His Majesty King Hamad, and the Custodian of the Two Holy Mosques King Salman bin Abdulaziz Al Saud.
Saudi Arabia is Bahrain's largest economic partner, thanks to their well-established relations, resulting in numerous joint economic and trade initiatives as well as investment projects that have contributed to supporting their economic growth. Both countries have underlined the importance of continuing to strengthen bilateral economic partnership through providing all elements that support it so as to reflect positively on their economic projects and achieve their common aspirations.