Peace and stability will further improve global confidence in Bahrain: HRH Prince Salman
TDT | Manama
The Daily Tribune – www.newsofbahrain.com
Bahrain will be launching major development projects that will further develop many sectors, His Royal Highness Prince Salman bin Hamad Al Khalifa, the Crown Prince, Deputy Supreme Commander and Prime Minister said.
HRH Prince Salman stressed the importance of maintaining a safe environment that supports growth and development in the Kingdom.
He was speaking yesterday during his visit to the Interior Ministry and meeting Minister General Shaikh Rashid bin Abdullah Al Khalifa and several high-ranking officers.
Peace and stability will help improve the confidence in the Kingdom's capabilities to host major regional and international projects and events, His Royal Highness emphasised.
Pride in security personnel's efforts
During the visit, HRH the Crown Prince and Prime Minister expressed his pride in the efforts of the ministry security personnel in maintaining the country's security and stability, and in supporting its wide-ranging achievements in line with its comprehensive development goals, led by the Supreme Commander, His Majesty King Hamad bin Isa Al Khalifa.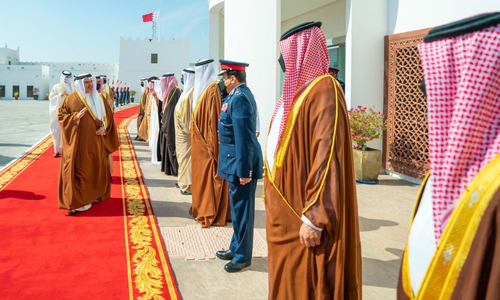 His Royal Highness noted the ministry's commitment to maintaining the services provided by its various agencies for the citizens.
The Deputy Supreme Commander affirmed the appreciation of HM the King for the role played by the security forces in preserving the security and stability of the Kingdom.
HRH Prince Salman noted that every citizen and resident of the Kingdom greatly appreciates the role played by the security forces in maintaining security and peace.
He noted that the ministry's efforts will inspire future generations to contribute to the prosperity and security of the Kingdom.
General Shaikh Rashid expressed his gratitude for His Royal Highness's visit and for the high praise given to the security forces, which will motivate them to do more.