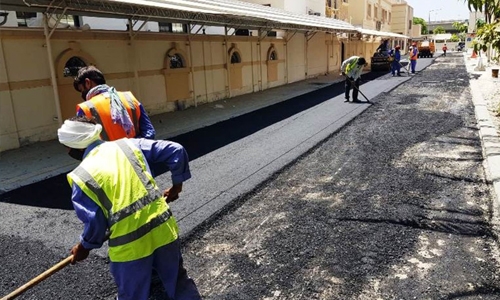 Zinj road project 60% completed: Works Ministry
TDT | Manama
The Daily Tribune – www.newsofbahrain.com
Works Ministry announced completing 60% of the road development project at Complex 360 in the Zinj. The ministry said it completed asphalt works of seven out of 14 roads, including for roads (6025A, 6025B, 6026A, 6026B, 6021,6023,6017).
Work is currently underway to complete the construction of the storm-water drainage network.
The Director of Roads Projects and Maintenance Department at the Ministry of Works, Municipalities Affairs and Urban Planning, Sayed Badr Alawi, said the project is part of the government's work programme for infrastructure development.
Tender Board awarded the project to Al-Wardi Company for BD707,196.
Ahmed Sabah Al-Salloum, the representative of the fifth district in the Capital Governorate, said the project improves the traffic, especially near the Al-Ittihad Club and medical clinics, in addition to providing many car parks.
The Chairman of the Capital Municipality Council, Saleh Tarada, praised the remarkable efforts of the ministry in developing and providing services to citizens and residents.