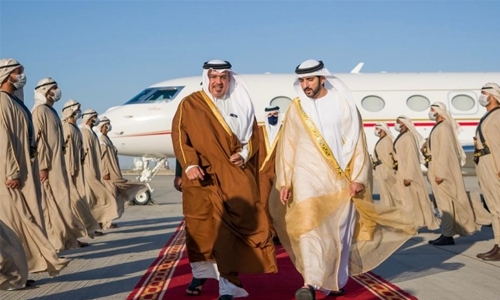 Dubai Expo 2021 a platform to showcase innovations: HRH Prince Salman
TDT | Manama
The Daily Tribune – www.newsofbahrain.com
Highlighting the rich history of Dubai, HRH hailed the Expo as "a platform to showcase innovations that have shaped the world we live in today" and its importance in exploring pioneering solutions that promote sustainable development.
Expo 2020 Dubai is the first world expo to be held in the Middle East, bringing together participants from across the globe to seek and share innovative ideas and solutions for sustainable development.
Commending the continued success of UAE in hosting the international exhibition, Prince Salman wished the UAE all success in accomplishing the objectives of Expo 2020 Dubai.
Visits UAE pavilion
HRH Prince Salman also visited the UAE pavilion and was received by the UAE's Minister of Culture and Youth and the UAE pavilion commissioner, HE Noura bint Mohammed Al Kaabi.
The UAE pavilion depicts its history, traditional values, future technologies and innovations across the aviation field.
For her part, the President of the Bahrain Authority for Culture and Antiquities, Commissioner-General of Bahrain's pavilion at Expo 2020 Dubai, Shaikha Mai bint Mohammed Al Khalifa, expressed her gratitude for the wide-ranging support provided by His Majesty King Hamad bin Isa Al Khalifa, and His Royal Highness Prince Salman, to the Kingdom's cultural heritage.
The Secretary-General of the Gulf Cooperation Council, Dr Nayef Falah M. Al-Hajraf, and the UAE's Minister of Tolerance and Coexistence and Commissioner General of Expo 2020 Dubai, Sheikh Nahyan bin Mubarak Al Nahyan, accompanied HRH Prince Salman.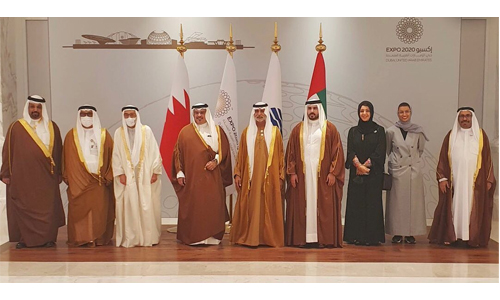 "Good opportunity"
Earlier, in a report published by the national news, Wael bin Nasser Al-Mubarak, the Minister of Electricity and Water Affairs for Bahrain, described the Expo 2020 Dubai "as a good opportunity for the country to showcase its infrastructure strategy".
"This is a good window to introduce the visitor to the business opportunities in Bahrain," the report quoted Al-Mubarak was as saying.
History of Bahrain
"The pavilion tells the history of Bahrain, the old professions that our grandfathers had experienced; farming, fishing and the pearl industry," Essam Khalaf, the Minister of Works, Municipalities and Urban Planning, said in his comments.
"The economy has evolved from that into the oil era and now the economy of Bahrain is developing into mixed services, promoting projects and initiatives in all fields.
"The [infrastructure] plans are all promising, and we keep our fingers crossed for a brighter future of Bahrain."