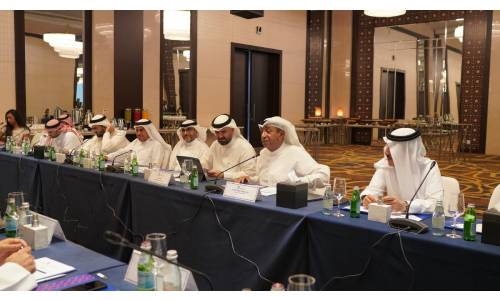 Kingdom to explore business opportunities with Brazil
TDT | Manama
The Daily Tribune – www.newsofbahrain.com
Bahrain Chamber of Commerce and Industry (BCCI) Chairman Sameer Nass has lauded the high-profile relations between Bahrain and Brazil, and the potential to further develop business. Nass convened a meeting with Arab-Brazilian Chamber of Commerce President Osmar Chohfi in the presence of the Federation of GCC Chambers the Secretary-General, Dr Saud bin Abdulaziz Al Mishari, board members of the BCCI, and Acting Chief Executive Officer Dr Abdulla Al Sada.
The meeting, held at Royal Saray Hotel-Bahrain, deliberated about stepping up business and trade between Brazil and Bahrain and countries of the Gulf Cooperation Council (GCC).
It discussed holding a joint business forum to liaise business owners from both sides and shed a scope of light on prospective areas of business cooperation.
Nass highlighted the growing business between Brazil and Arab countries, pointing out that the Kingdom of Saudi Arabia tops importers of Brazilian goods, with exports from Brazil to the Kingdom reaching $526.16 million, while Bahrain ranked second with imports worth $406.36 million.
He named promising areas of cooperation between Bahrain and Brazil such as medical tourism, pharmaceutical, education, and the aluminum downstream industry.
Chohfi praised the growing relation between Brazil and Bahrain and the GCC, affirming the keenness of his country in expanding relations and bolstering business cooperation with friendly countries.