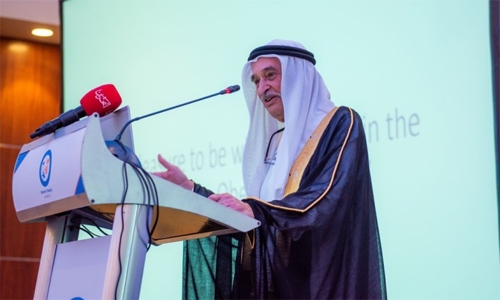 25.7% expatriates, 42.8% citizens in Bahrain suffer obesity
TDT | Manama
The Daily Tribune – www.newsofbahrain.com
Radical measures are needed to fight obesity which has gone up over the past years, said a top Bahraini health official. Lieutenant General Dr Shaikh Mohammed bin Abdullah Al Khalifa, the President of the Supreme Council of Health, and the Chairman of Bahrain Diabetes Society, also warned that the repercussions of the disease, being chronic, are dangerous to both the individuals and the community.
According to a 2018 survey, 25.7% of the expatriates and 42.8% of the citizens in the Kingdom suffered from obesity. The National Health Survey also puts 39.8% of the residents and 33.2% of the citizens as overweight.
Bahrain, Dr Shaikh Mohammed said, puts top priority for fighting obesity, for which the Kingdom has also designed a wide variety of programmes. "They aim at achieving sustainable development goals and reducing premature deaths from non-communicable diseases by 2030," the SCH President said while inaugurating the "Bahrain Obesity Academy" conference.
BDS organised the event in cooperation with the Ministry of Health, the King Hamad University Hospital, and the Royal College of Surgeons in Ireland. Highlighting efforts to fight overweight, Dr Shaikh Mohammed said it includes promoting physical activities, healthy nutrition, healthy lifestyles and establishing specialised clinics.
"Bahrain Obesity Academy", he said, will prepare a comprehensive educational programme for 45 doctors on prevention, diagnosis and management of obesity to assist overweight patients. Health Ministry Assistant Undersecretary for Public Health, Dr Meriam Al Hajeri, said that the obesity rates in the Kingdom are warning us on the need to tackle it with urgent priority.
She also called for regional efforts to tackle the issue of overweight. Dr Al Hajeri also pointed out that the "Bahrain Obesity Academy" conference is the first medical conference since the outbreak began which is a good sign for the sector.