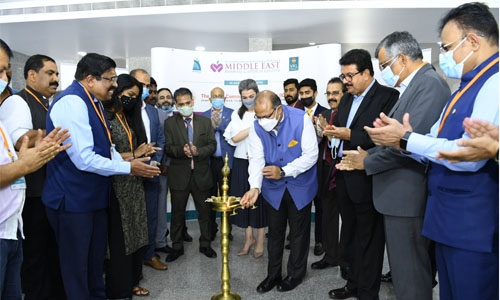 Year-long mega medical camp to aid 5000 workers launched in Bahrain
TDT | Manama
The Daily Tribune – www.newsofbahrain.com
Indian Ambassador Piyush Srivastava yesterday inaugurated a Mega Medical Camp programme by the Indian Community Relief Fund at the Middle East Hospital.
The ambassador inaugurated the event by lighting a traditional lamp in the presence of Shereen Al Saathi, the Director of Protection and Grievances at LMRA and Varghese Kurian, the Chairman of VKL Holdings and Al Namal Group.
The year-long camp, which celebrates the 75 years of Indian Independence, joins hands with several hospitals and medical centres in the Kingdom.
Jeeben Varghese, the Director of Middle East Hospital, VKL Holdings & Al Namal Group, Dr Babu Ramachandran, ICRF Chairman, Pankaj Nallur, General Secretary, Adv V K Thomas, Vice Chairman, Advisor Aruldas Thomas, Treasurer Mani Lakshmanamoorthy, Joint Treasurer Rakesh Sharma, Mega Medical Camp General Convenor Nasser Manjeri, Mega Medical Camp General Coordinator Murali Krishnan, Soman Baby and Radhakrishna Pillai were also present.
The camp's September coordinator Subair Kannoor and ICRF volunteers Raman Preet, Sushma Anil, Anupama, Zulfiqar Ali, Chemban Jalal, Suresh Babu, Suni Kumar, Pankaj Malik, Kasi Viswanath, Nitin Jacob, KT Salim, Toji AT, Spandana Kishore, Murli Nomula, Clifford Correa, Reyna Clifford, Hari and Noushad were also part of the inaugural event.
75 workers took part
Nearly 75 workers from Manama underwent medical diagnosis yesterday at the camp, which provided specialist consultations to workers diagnosed with chronic diseases.
Camp to reach 5000
The camp aims at providing medical help to 5000 workers in the next 12 months on alternate Fridays, starting this month. "We intend to take around 100-150 workers to each hospital on alternate Fridays," organisers said.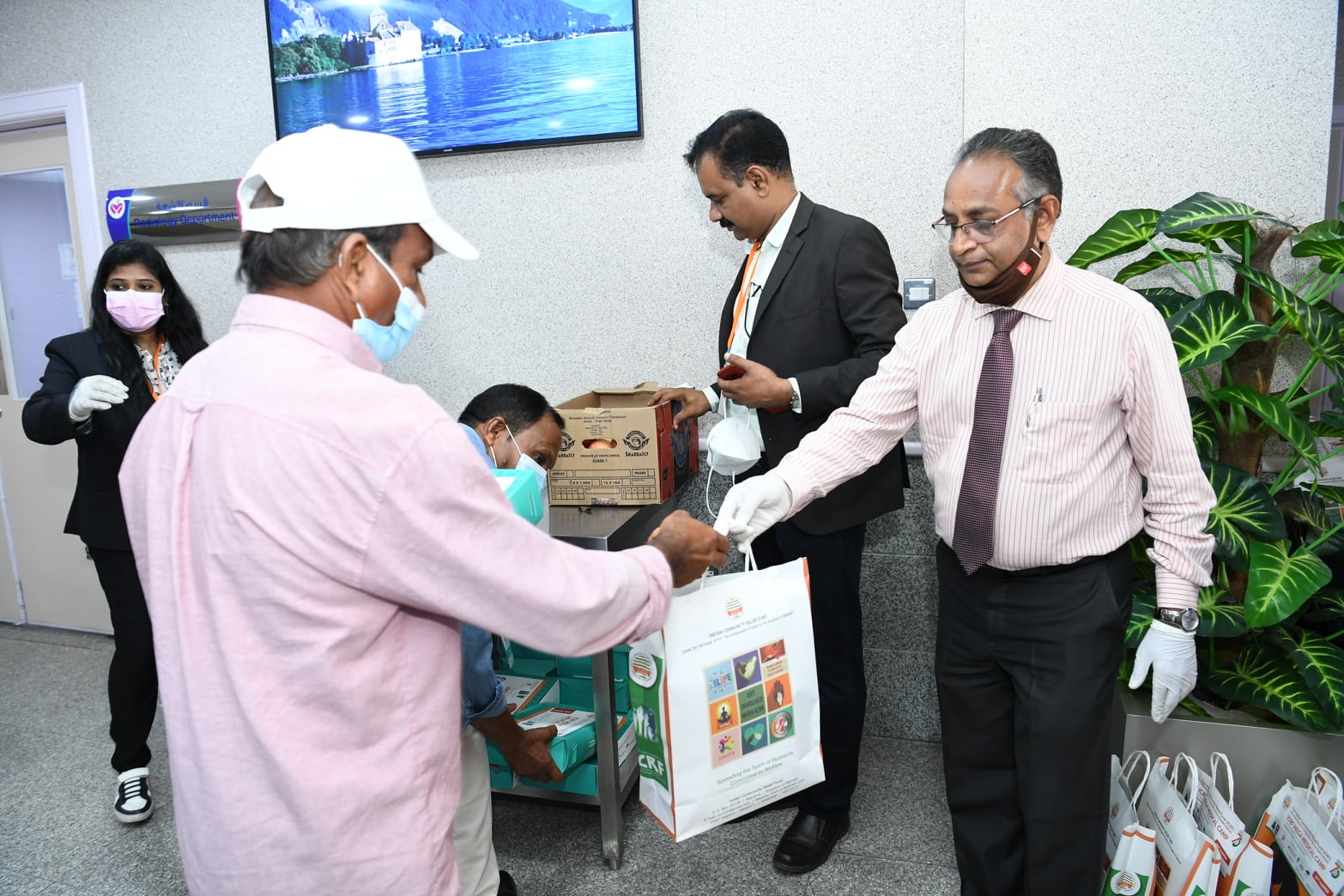 Al Namal to help 2,500 workers
Al Namal Group/VKL Group will provide medical check-ups at the Middle East Hospital and lunches to around 2500 workers.
LMRA, the annual sponsor of the event, is providing Covid Awareness Campaign material (facemasks, antibacterial soaps etc) for all the workers. Nasser Manjeri is the General Convenor, and Murali Krishnan the General Coordinator. The other 12 monthly coordinators are Subair Kannur, Clifford Correa, Ajaya Krishnan, Sudheer Thirunilath, Sushma Anil, KT Salim, Kasi Viswanath, Shivkumar DV, Sunil Kumar, Toji AT, Spandana Kishore and Chemban Jalal.
Participating medical facilities are Middle East Hospital, Al Hilal Hospital, Kims Health, Shifa Al Jazeera, Dar Al Shifa Medical Centre, Aster Medical Centre, the American Mission Hospital and Thyrocare. All the workers will receive lunch and multilingual Covid-19 awareness flyers as well as gift hampers.